Indian weddings are a fun affair. You meet your friends and relatives, have a blast, don beautiful dresses and get to eat delicious and yummy food. Winter wedding season will be arriving soon and with it the serious matter of deciding on what to wear. In this article, we have curated the 10 best winter wedding outfits for guests. We have started with women's wear as they have the grave responsibility of looking good and then men's wear as we don't want them to feel left out. Let us have a look at these outfits below.
Graceful and quintessentially Indian, Sarees are our first pick. Sarees are perfect outfits for Indian weddings, whether summer or winter. "There are so many alternatives, whether it's a Banarasi silk saree or a Kanjivaram in the southern style." Wear a heavy embellished Saree for better protection from elements in the wintertime. Pair it with diamond jewellery for a classy look. Top your outfit with an embroidered shawl if you are feeling a bit cold.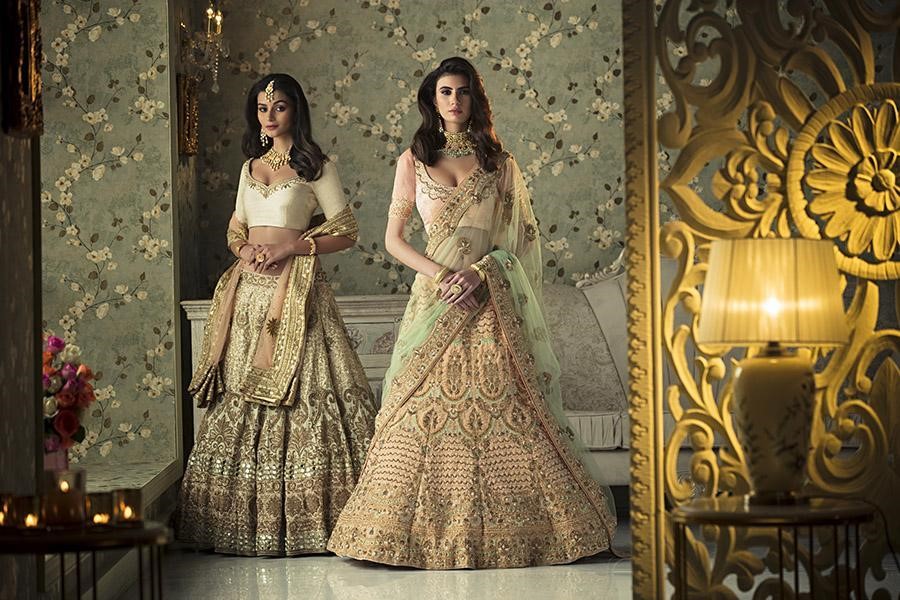 Lehenga is a favourite in winter wedding outfits for female guests. Choose a lehenga with traditional elements like embroidery and zari weaves. Banarasi and draped lehengas are also popular choices. Pair it with a full-sleeved blouse with traditional motifs and a heavy dupatta to take care of the winter cold. Wear a chunky silver necklace and large earrings to complete the look.
The most comfortable of all Indian attires. Wear a heavily embroidered one with a dupatta with mirror work to stand out from the crowd. Pick bright red or green colour and pair it with gold bangles, earrings, and a necklace for maximum effect.
Floor-length Anarkali dress is an excellent choice of winter wedding outfits for guests. Wear a heavy one with detailed embellishments. Pair it with Jarao jewellery for a nawabi look.
Lehenga Saree combines the grace and beauty of both lehenga and saree. It combines the flares of the lehenga with the pallu of the saree. Pair this unique combination with a full sleeve blouse and you will be the centre of attraction of the whole wedding.
The velvet dress is best suited as winter wedding outfits for Indian guests. The fabric keeps you warm and looks luxurious and elegant. Wear a two-piece dress or a full-length velvet gown. Pair it with a single gemstone pendant and earrings matching the colour of your gown. For example, with red, wear rubies, with green wear emeralds and for blue wear sapphires or aquamarine.
Now we come to the wedding guest dresses for men.
The most popular option among men as Saree is for women. Wear a bright-coloured one for a day wedding and dark colours for a night wedding. Pick the kurta with embroidered chest and arms. Pajamas should be what you are most comfortable with. It can be a churidar or straight or a regular fit. For footwear, you can choose between Rajasthani or Punjabi juttis or leather sandals like Kolhapuris. Add a detailed stole to your outfit for flare and wear an Indian-style waistcoat or 'Basket' for protecting yourself from the winter chill.
Wear a sherwani If you are a near relative or a close friend of the bride or groom. This traditional heavy dress is the apt winter wedding outfit for guests who are close relatives. Sherwani can be worn in different colours. Pair it with sensible shoes to tone down the bling.
9. Nehru Jacket with Trousers
The Nehru jacket never went out of fashion. It is a good alternative to coats if you are sticking with trousers but want a bit of an ethnic look. Nehru jackets are made of different fabrics. If the winters are just starting you can pick a silk one but if the wedding is well into winter, then opt for a woollen jacket.
Galaband means closed neck in Hindi and Urdu. This is the amalgamation of western and traditional looks. Wear a long gala band or Achkan with churidar for a traditional look or one cut at the waist for the classic 'Mao look' that is still in vogue. For the former Achkan look wear traditional footwear and for the latter go with plain leather shoes matching the colour of the ensemble.
As we said earlier, Indian weddings are fun but you have to pick the right dress for the occasion, whether you are a man or belong to the fairer sex. Winter wedding outfits for guests should serve their purpose, that is, represent your personality and protect you from the elements.