A wedding is a significant occasion in a person's life, and a Wedding Planner, therefore, plays an all the more critical role in the lives of the soon-to-be-married-couples and their families. The Wedding Industry in India is growing steadily at 25-30% year-on-year offering multiple career opportunities.
The job of a wedding planner is both exciting and challenging.
If you are considering a career as a Wedding Planner, you might be drowned into the mirage of questions, which needs to be answered.
Do You Have It In You?
Weddings can be a nerve-wracking experience, both for the couple as well as their family. As a wedding planner, you need to be sensitive to their needs and requirements. The following skills are must if you wish to be a successful one:
Excellent Organizational Skills
Good Communication Skills
Outstanding and creative problem-solving Skills
Ability to create and then manage a budget
An eye for Detail
Ability to work under pressure and meet tight deadlines
Do I need a Degree to Become a Wedding-Planner?
You don't have to attend full-time college to become a Wedding Planner, and anyone can be one. But then, with weddings becoming more and more lavish and commercial, it is always better to be thoroughly skilled in your profession. So a formal training and getting a Diploma Certification becomes extremely important.
There are many institutes that offer an Event Management Diploma Course. But TWS (The Wedding School), a Mumbai based premier wedding institute offers a Specialized Diploma Course in Wedding Planning & Management over a span of 6 to 8 months. Their courses go beyond typical classroom sessions and have intensive on-field training and internship programs (domestic as well as international) where the student gets to closely work with expert Wedding Planners.
What Does a Wedding Planner do?
A wedding planner does everything. He is a Jack-of-all-Trades. Anyone, who has seen a wedding at home, knows about the stress that is involved in planning it. The Wedding Planner takes care of all the details, be it big or small. Lesioning with different vendors to plan out the venue, invite, travel, décor, menu and much more.
It is the duty and the responsibility of a wedding planner to be calm and composed even in the most pressure situations.
Though sometimes, a wedding planner is compared to an Event Manager, it is not like that. A wedding planner has to deal with the highs and lows of the couples' as well as the family emotions. He / she has to ace the hospitality experience for guests, he to be well aware of the new fashion and beauty trends for the brides as well as the groom, the list is infinite.
What will I be an Employee or an Entrepreneur of this industry?
If you have the resources that will be enough to back you up, you may start up as an entrepreneur yourself. But being 'in the business' is not for everyone, so weigh all the pros and cons before you make a decision. But one thing you need for both is field-experience.  The guidance provided by The Wedding School prepares the students by giving ground experience under the guidance of the best in the business. The student is ready to face any challenging and pressure situations calmly.
What are the Prospects of Becoming A Wedding Planner?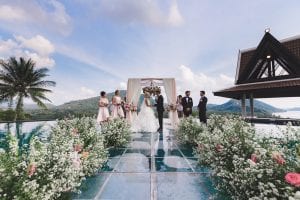 With about 10-12 million weddings every year the Indian wedding industry has become a USD 50 billion industry. Also, if the market trends are to be believed, the profession is likely to see a multifold employment increase as more and more people opt for professional Wedding Planners and Destination Weddings. Needless to say, that the prospects for those who hold a certification in the field, are expected to be way higher. The Wedding School understands the prospects and prepares you appropriately and aptly for this rising career opportunity.
If you consider yourself as an individual who desires to give the others a perfect celebration of their love and togetherness, then becoming a Wedding Planner is probably the best career for you.