Amidst all the centrepieces, breathtaking backdrops, and sparkling chandeliers, the wedding decor holds the entire wedding together.
With technological advancement, many options are available for decor ideas; for instance, rising platform stage, LED backdrops, etc. Typically, among all the decor ideas for wedding in 2022, the most significant leap is taken by the wedding stage. For instance, what started as just a sofa set for the bride and groom to sit on has become one of the best highlights of wedding decor. Wedding decor ideas have surpassed the clustered and cliched floral hangings and scrunched-up drapes. Presently, the wedding decor can be as minimal as placid white decor or as fancy as black and gold decor with chandeliers.
Though the final call is of the soon-to-be-couple, being a wedding planner, you must suggest the best and most trending wedding decor ideas to your clients. To assist you further, we are here with the seven most trending decor ideas for wedding.
7 Latest Wedding Decor Ideas
Here, we have discussed seven of the most trending wedding decor ideas in 2022. Suggest these to your clients to gain some brownie points for your profile!
Go Luxurious, Go Gold and White/ Black
Undeniably, the wedding decor solely depends on the couple's choice. Nevertheless, if your clients are inclined toward luxurious decor, then this wedding decor idea is indeed the best for them. Plan the decor with black or white coloured flowers and a golden backdrop or vice versa. You can add a golden centrepiece with black or white tablecloths and runners. To further enhance the luxury of the decor, you can add hue lights to add depth. We assure you that this wedding decor will be the talk of the town!
Next on our list is a technologically forward wedding idea – playing around with LEDs. In recent years, technology has advanced, and the wedding planning industry is not far behind in catching up. Today, LEDs are a key differentiator between a normal and a grand wedding. You can devise a LED backdrop or wedding stage floor; regardless of choice, LED will add an enigmatic charm to the wedding decor. Moreover, you can also use LEDs to incorporate club-like lighting for the sangeet or mehndi ceremonies!
Introduce Royalty With Dome Mandap
Who doesn't want a royal wedding? Everyone, in fact, majority of the girls dream of a fairytale and royal wedding since their childhood days. Indeed, seeing their dream turn into reality will be beneficial for your portfolio and will leave behind great reviews. So, suggest to your clients this royal wedding decor idea. Add a dome-shaped mandap with a floral or crystal chandelier, and add a peach hue with the help of lights and curtains. Indeed, this wedding decor tops the list of decor ideas for weddings in 2022.
Regardless of where the decor advancements lead, nothing can beat the charisma and beauty of flowers, right? So, why not go with a powerhouse floral stage? Decorate the stage with multi-coloured flowers – use curtains made of flowers, a floral chandelier, and placid white or black curtains to highlight the mesmerising beauty of flowers. Design a semi-circular stage with a backdrop covered in flowers or place two gigantic vases along with a boho-style stage. Indeed, this is one of the best decor ideas for weddings in 2022.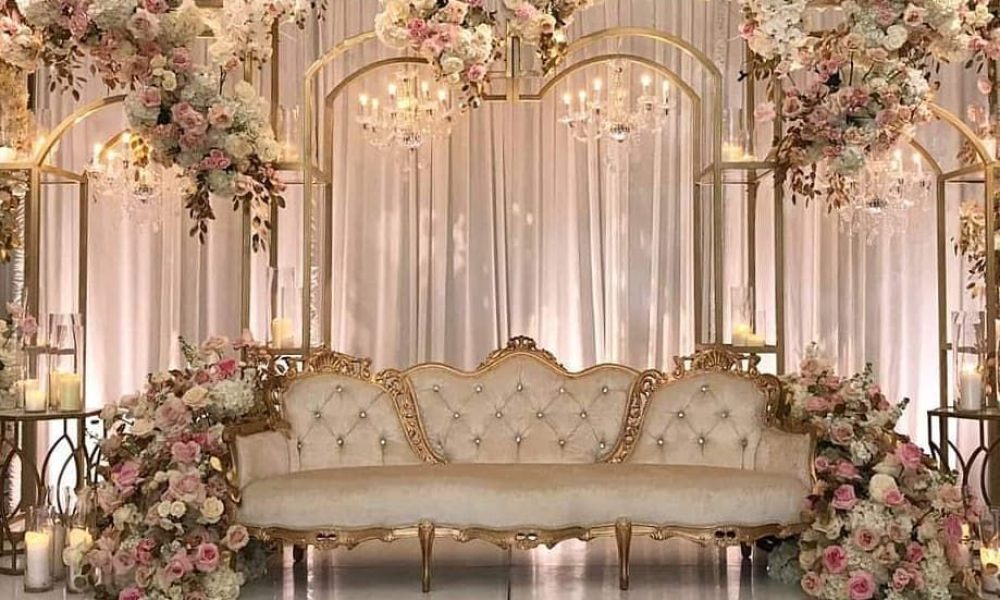 White Florals With LED Hues
Does your client want a minimalist decor ? Well then, this is one of the best decor ideas for wedding in 2022. Plan everything white and add the magic of LED hues. For instance, devise the decor with white scrunched-up, falling curtains, add white florals, white table, and chair cloth. Then add purple, golden, or pink-hued LED along with the same coloured table runners or centrepieces. Moreover, you can also use this for the wedding stage, accommodation, and the mandap.
Whimsical And Rustic Decor
Are you looking for vintage decor? Go with whimsical and rustic decor ideas for wedding. You can choose a combination of gold and dark-coloured decor. Further, you can add glittery and shiny curtains, handcrafted flowers, and silver & white adornments to the decorations. For the seating, go with something plain and simple like a white velvet sofa, etc. Add some artistic candle holders with quirky-style candles and a table for keeping the gifts!
The Almighty White With Rising Platform
Lastly, the list of wedding decor ideas can't be complete without the rising platform decor of the trendiest wedding decor – white adornments, florals, and other decorations with a rising stage. Undoubtedly, the wedding should focus on the couple, and there is nothing better to do the deed than a rising stage.
Are you passionate about wedding planning? Or do you wish to advance your skills? The Wedding School is here with a wedding planning and design & decor course. Our course will educate you about all the technicalities involved in wedding planning and trendy ideas you can use to pitch your first client!