The potential of a career in the 40 billion dollar wedding industry is incredibly promising. And when dedication and enthusiasm ride on sound knowledge, success and fulfilment are very much par for the course.
The Wedding School, a Mumbai based institute provides career-focused education to those who are passionate about the industry. Intensive diploma courses take students through each step of the process of putting together a celebration via in-depth, practical and emotional learning.
Mareesha Parikh, CEO & Co-founder of The Wedding School tells us about what the courses have in store for students.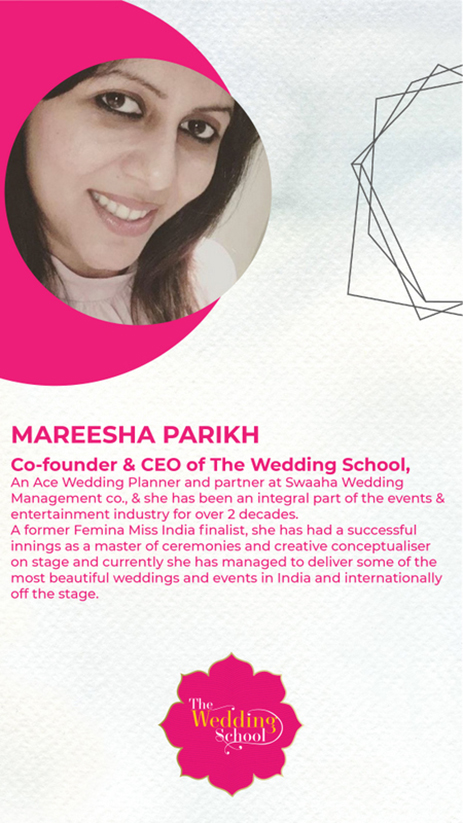 1. The Wedding School is unique in the way it trains students in managing every aspect of a faceted industry like wedding planning. What was your vision for this institute and the aspirations of the curriculum?
"Our getting into the education space and structuring our curriculum was guided by a core philosophy, 'Creating Contributors'.
Our aim was to give back to the industry by training young people who want to join it and contribute to it. The Wedding School aims to transform their raw talent in ways that will benefit the industry as a whole and will give each student a personal advantage.
In our experience as planners, we've come in contact with many freshers who have had a great education but know very little about the industry. Even those who have been trained in event management will realise that managing a corporate or sports event is very different from putting together a wedding.
The curriculum imparts practical knowledge about every department where a wedding planner's involvement is expected. It entails everything from creating logistics sheets to making RSVP calls, coordinating with the clients on various fronts to dealing with the bride as well as her entourage including her makeup artist, her designer, etc., negotiating with vendors and the whole nine yards. Many of our sessions focus on décor and production because many of our students are interested in specializing in that area."
2. There is the assumption that since wedding planning is a 'hands-on' career, it's best to learn on-the-job rather than in a classroom. What does The Wedding School offer that makes its courses better than just on-ground learning?
"A lot of young people do believe this but it's far from the truth. Whatever experience you get on the field will not provide any insight into the thought and effort that is put into the on-ground execution. A wedding, on an average, takes six to nine months to plan. To expect that mere involvement on the last three days – the days of the celebration – can give you a thorough perspective on the entire process is naïve.
Weddings are meticulously planned affairs with a plethora of minute details. How do you learn important techniques like thinking out of the box, conceptualizing creative themes, managing the wishes and temperaments of family members and so on.
In order to learn how a project evolves from plan to perfection, it is imperative to enroll in a school that will open a world of immense knowledge, insight and in depth experience. The great career opportunities will follow."

3. What makes a course in wedding planning different from one in event management?
"Long before we launched The Wedding School, I've lectured at the city's leading event management institutes. Event management courses do touch upon weddings, treating them as a niche topic and the approach is more functional; focus on lighting, size of the stage, etc. There is no true understanding of how complex the demands at a wedding can be as opposed to any other event. The approach needs to be more emotional.
At The Wedding School we begin by teaching our students how to manage the emotions of the family, making sure everyone is on the same page when making decisions, gauging their requirements and so on… The Wedding School alumni will be creative players who don't just design wedding set ups but also create entire experiences that engage, enthrall and exhilarate the couple's guests.
We've received feedback from a lot of wedding planners who have such great things to say about our students. We've been told that our students who intern with these planners are more competent and skilled than employees with a couple of years experience!"
4. What is a typical lecture at The Wedding School like?
"We're quite a 'typical' school. We expect our students to report before time, nobody is given the option of missing lectures, they have to take notes, whilst in class, they are not allowed to access their phones, they have to be attentive – everything that one would find in an old-fashioned school. We also give them assignments on the basis of which their performance is evaluated. This eventually enables them to get placed in organisations that are best suited for them.
My mother, Dr. Usha Parikh has an academic background and we together have personally designed the curriculum. She has been part of the wedding management firm for nearly a decade and along with her experience her academic process ensures the programs are very thorough. Classes are either given by me or industry experts and we conclude with a Q&A round where students are allowed to clarify doubts and discuss queries."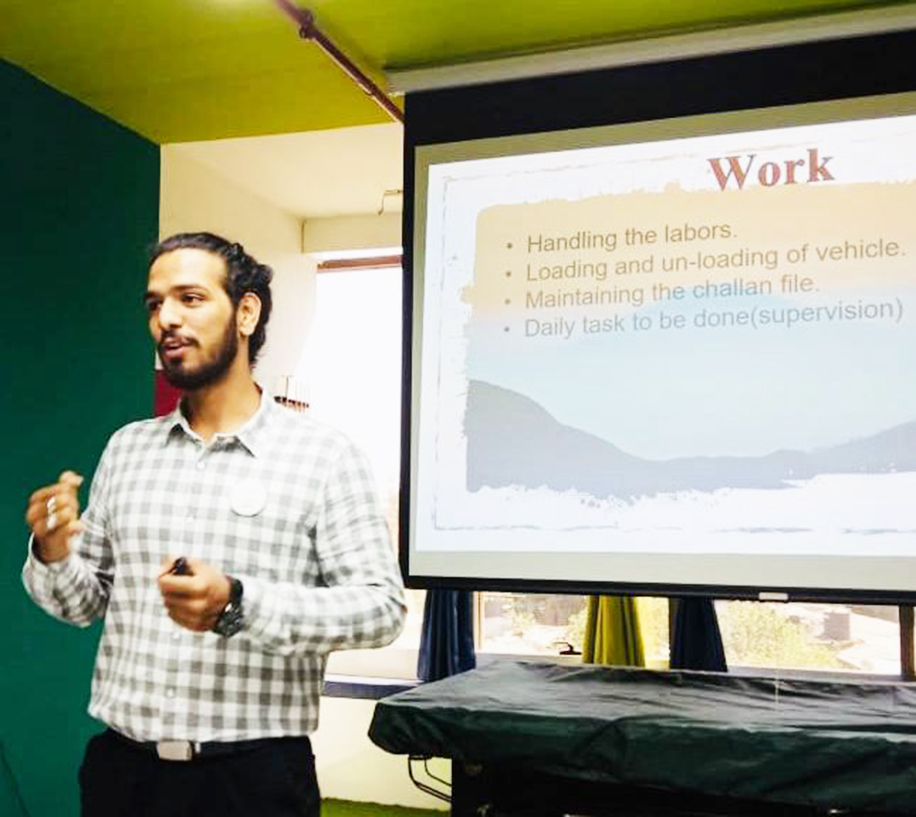 5. Do you have any message for those aspiring to be professionals in the wedding industry?
"Please understand the value of knowledge. The industry is evolved and very professional and is at a stage when you need to be educated before you enter it. We've moved past the time when families would unite to throw a big party. Everyone wants an expert to handle the affair. Even low budget weddings expect a certain level of skill and professionalism from wedding planners who will be engaged in every aspect of the celebration. It is of utmost importance to gain the right knowledge before you apply for a job. Not only will the right education encourage you to think creatively and transform you into a real contributor, but it will also give you credibility and due to this, chances of employability increases. You will be taken seriously and will develop a reputation as an individual who creates weddings that are unique and extraordinary."