Having your dream wedding in a beautiful place with all formalities taken care of has become quite popular in India. Couples are increasingly opting for destination weddings within our country itself. And why not! India is full of picturesque places and scenic locales which are well connected and offer great facilities for weddings and other celebrations. And the cherry on the cake is that you can find numerous places which are affordable for an upwardly mobile Indian couple. Several hotels and resorts offer budget-friendly wedding packages. A beautiful wedding surrounded by friends and family in an exotic location creates a memorable experience for a once-in-a-lifetime memorable occasion. 

In the below article, we have curated a list of 10 budget wedding destinations in India. These range from well-known to relatively obscure locations. Some obvious choices have not made the list as they are too well known and 'over popular'. Also, we wanted to include some overlooked but excellent wedding destinations within India. Let us have a look at the locales below.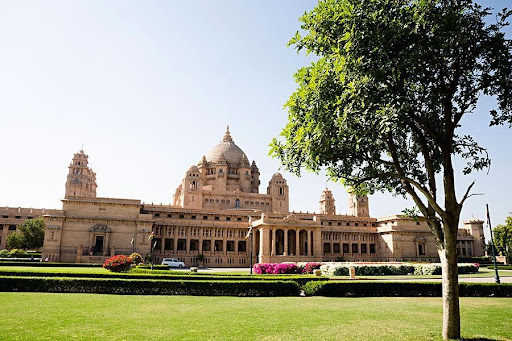 Rajasthan is home to some of the best wedding destinations in India, a few of which feature in this list. Jodhpur, also known as "Blue City" is a historic city that is equally popular as a tourist and wedding destination. This beautiful and welcoming city has magnificent palaces, gardens, and ancient temples in abundance. The city has a rich culture consisting of handicrafts, architecture, and folk music. The location right next to the Thar desert offers a breathtaking vista. Jodhpur has so many locations to choose from whether you want a traditional or a theme-based wedding. Some of the best wedding venues here are The Umaid Bhawan Palace, The Mehrangarh Fort, and Ajit Bhawan. Other noteworthy contenders are The Taj Hari Mahal, The Balsamand Lake, and The Ranbaka Palace. The best time to plan a wedding here will be from October to March to avoid hot summers. 
Jaisalmer is another locale in Rajasthan that features in our list. Also known as 'Golden City' and situated in the middle of the Thar desert it is foremost among unique wedding destinations in India. With its royal ambience and several hotels, palaces converted into resorts, crowned with a 'living' Jaisalmer fort and grand wedding venues, it is the perfect choice for a dream wedding. Jaisalmer offers a multitude of wedding venues that include heritage Havelis & hotels, luxurious properties, and erstwhile palaces. These include The Suryagarh Palace, Fort Rajwada, Narayan Niwas, Jawahar Niwas and Rang Mahal Palace. Other heritage properties include The Mandir Palace and The Himmatgarh Palace. Other popular wedding venues include Bageecha Lawns, Taal Amphitheatre, Sarovar Poolside, and Sam sand dunes desert safari camp. The best time to plan a wedding here will be from October to March to avoid hot summers.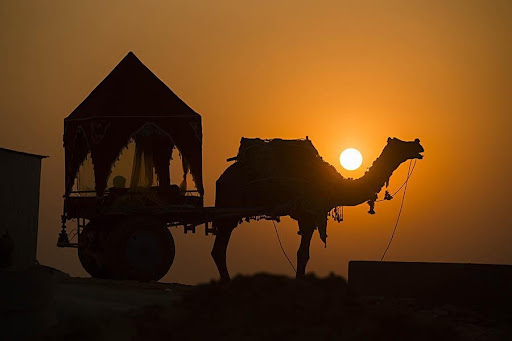 Pushkar is yet another destination from Rajasthan that features in our list. This is a holy city situated near Ajmer. It is home to ancient holy temples, the beautiful Pushkar lake, and lavish wedding venues. Pushkar has the unique distinction of having the only temple of Lord Brahma in the world. The other noteworthy temples include Varah Temple, Savitri Temple, and Rangji Temple. It also hosts the famous Pushkar camel fair. Notable wedding venues include The Westin Pushkar Resort, Hotel Brahma Horizon, Jagat Palace, and Hotel Leela Vilas. Other noteworthy inclusions are Dera Masuda, Hotel Vamdev Fort, and Gulaab Niwaas Palace. The best time to plan a wedding here will be from October to March to avoid hot summers.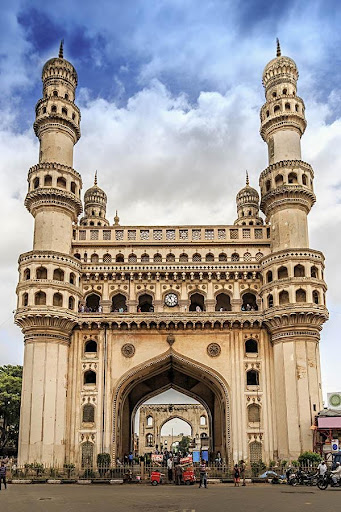 Hyderabad the capital of Telangana is a beautiful combination of old-world charm and modern age technology. It is called by various names such as City of Nizams, City of pearls and also Cyber City or Cyberabad. It is filled with heritage sites and modern architecture existing side by side. It is home to Golconda Fort, Charminar, and the breathtaking Hussain Sagar Lake. All in all, it is an excellent budget wedding destination in India. Some of the best wedding venues here are Taj Falaknuma Palace, Hyatt Place, The Chowmallah Palace, and The Trident. The best time to plan a wedding here will be from September to April.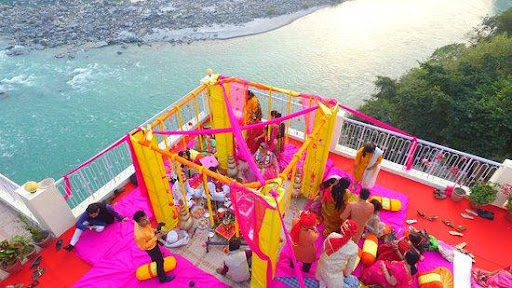 Rishikesh is a holy city and an adventure sports hub all rolled in one. Rishikesh and its adjoining and equally well-known city Haridwar have been given the title of first "Twin National Heritage Cities." Rishikesh is the gateway to the Garhwal Himalayas. Rishikesh is also known as the 'Yoga capital of the world.' With its beautiful river banks, ancient temples, rafting, and adventure sports camps, and whole year connectivity to all the major cities of India, it is the preferred summer wedding destination in India. Some of the great wedding venues here are Atali Ganga Resort, The Roseate Ganges, Sterling Palm Bliss, Aloha on the Ganges, and Hotel Ganga Kinare. The best time to plan a wedding here is in the summers and early winters. It pours heavily during monsoon and has chilly winters. 
6. Ramnagar, Jim Corbett National Park
Surrounded by lush greenery and hills with Jim Corbett National Park adjacent to it, Ramnagar is emerging as an affordable and one of the best budget wedding destinations in India. The weather is perfect all year long. Include a tiger safari in your wedding itinerary. Plan a jungle wedding, a themed wedding, or a traditional wedding, the choice is all yours. You can also plan an outing to scenic lake town Nainital which is a couple of hours away. Best Wedding venues here include Acorn Hideaway Resort and Spa, Namah, The Golden Tusk Resort, and The Corbett River Creek Resort. The weather is good all year round but avoid monsoons.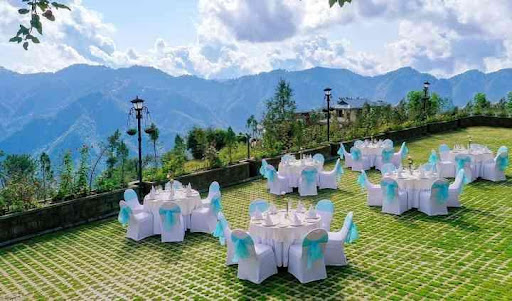 Shimla was the erstwhile summer capital of Colonial India. All the British administrators and dignitaries used to flock here to escape the hot summers of Delhi. A peaceful environment, welcoming people, scenic beauty, and snowy hills laden with pine trees make it the ultimate summer wedding destination in India. Shimla has numerous resorts and hotels which have expertise in organizing destination weddings. Some of the popular wedding venues are Wildflower Hall, The Oberoi Cecil, Woodville Palace, Radisson hotel, and Taj Theog Resort and Spa. The best time to plan a wedding here is in the summers as winters are extremely cold. 
Kerala is a beautiful place aptly named 'God's own country'. It boasts of numerous picturesque and varied locations. From the backwaters and lagoons of Alleppey to tea gardens in Munnar, to heritage Kochi Fort and coconut tree laden beaches of Varkala and Kovalam, Kerala has it all. Witness the boat races, enjoy the delicious cuisine, and have a perfect weekend in a houseboat. All these attractions make Kerala one of the best wedding destinations in India. The preferred wedding venues include The Leela, Lake Palace Resort, Kumarakom Lake Resort, Taj Green Cove Resort, The Raviz, and Palmgrove Lake Resort among several others. The best time to organize a wedding is between September to March.
9.Andaman and Nicobar Islands
For an affordable beach wedding, Andaman and Nicobar Islands have emerged as popular options. Only 38 islands out of a total of 572 islands are inhabited here. Out of them The Havelock and The Neil Islands are best suited for a destination wedding. The Havelock island has several white sand beaches with clear waters. These include Elephant beach, Kalapathar beach, Radhanagar beach, and Vijaynagar beach. Swim, jet ski, kayak, snorkel and take glass-bottomed boat rides to marvel at the crystal clear sea here. Neil island also has beautiful beaches. Scuba dive, snorkel, or just lounge at beautiful Sitapur Beach, Bharatpur Beach, and Laxmanpur beach here. There are resorts catering to every economic stratum in both these islands. Have a lovely beach wedding in front of the serene Andaman Sea. Some quality wedding venues in Havelock Island are Taj Exotica Resort, Havelock Island Beach Resort, Silver Sand Beach Resort, and Emerald Gecko. The best wedding venues in Neil Island are Hotel Kingfisher, Seven Seas, Seashell Resort, TSG Aura, and Holiday Inn beach resort. The best time to organize a wedding is between September to March. Avoid monsoons as it rains heavily with thunderstorms accompanying it. India's only volcano Barren Island is also located in Andaman and Nicobar Islands which also makes it a unique wedding destination in India.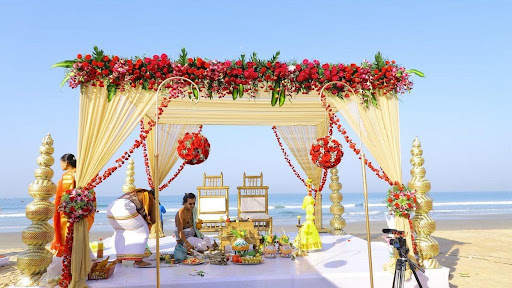 Goa is without doubt the most popular and best wedding destination in India. Our list would not be complete with the exclusion of Goa. You can organize any type of wedding here. Whether it be a traditional wedding, a church wedding, a theme wedding, or a beach wedding. From the beaches facing the Arabian Sea to old Portuguese-built churches and Forts to lush forests and diverse flora and fauna, Goa has it all. It has so many quality wedding venues to choose from that we can fill several pages. Nevertheless, some notable and popular choices include Vivanta, Park Hyatt, Taj Exotica on Varca Beach, The Leela at Morbor Beach, and Radisson Blue Resort on Cavelossim Beach. The weather is good all year round. But accommodation prices rise around the peak season of November to February. So, for a budget destination wedding, the best time would be March to May. 
So, these are the 10 excellent budget wedding destinations in India. India is a vast country with diversity in culture, climate, cuisine and customs among others. There are so many other wedding destinations to choose from that include Coorg, Jaipur, Madurai, Nashik, Alibaug, Puri, Varanasi, Bangalore, and several other locations. We could not include them since we are limited by the list size. Check them also along with the beautiful destinations described above for your dream destination wedding.