Decorating while keeping a budget in mind can be difficult, but occasionally a financial constraint can lead to very unique, imaginative, and creative event decoration ideas. A budget also compels you to simplify, and we all know that when it comes to event decoration, less is frequently more.
It's easy to get bored, planning identical events year after year, and many event planners run out of simple event decoration ideas. Fortunately, wedding event decoration ideas are all about creativity. All it takes is a little preparation and flair to elicit a favourable, visceral reaction from your clients and attendees as soon as they enter your event.
10 Event Decoration Ideas In A Budget
Here are our ten leading event decoration ideas to leave an impression on your guests at your next gathering or event decoration at home.
Food is an art form that may leave a lasting impact. No, we're not only referring to delivering delectable foods; we're also speaking about presenting food to spark your guests' curiosity in an amazing food display or exhibit. Food can provide an interesting aspect to any event decoration if creatively organized. As an event planner, you wish your guests to appreciate everything about your event, from the guest speaker to the group discussions to the decor! There can be a doughnut wall, a DIY bar, and more to choose from. There are so many possibilities to select from for food-related event decoration ideas.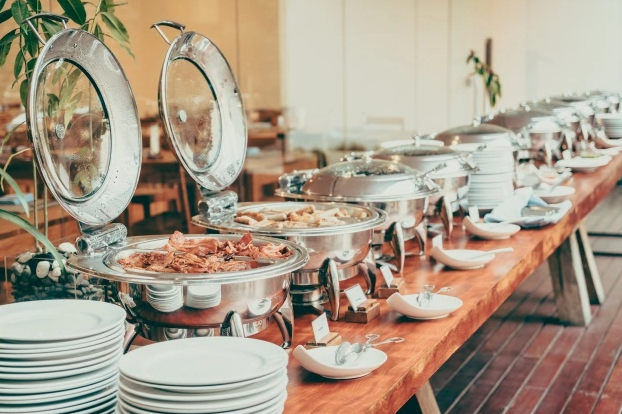 For a friendly and sophisticated event appearance, let your imagination run wild with pipe and drape. Fabric may give dimension to your event's décor by providing colour. It gives the room a more personal feel while also making it look larger. If you're on a tight budget, consider simple event decoration ideas like only using drape cloth on the buffet and service stations.
As one of the wedding event decoration ideas, you can drape multi-coloured pennant streamers or banners from the ceiling to the corner of the room to achieve a show-stopping effect. Compact places with higher ceilings are ideal for this impression. Ceiling decor can eliminate the requirement for floor decor, saving money and valuable storage space. Use a lot of lights, colours, projections, and other event decoration ideas to get the best impact.
You can be creative with wedding event decoration ideas even if you don't have enough budget and resources to invest in crystal centrepieces and dinnerware. Consider something different, whether it's the napkins or the centrepiece, to capture the attention of your guests. If you want to include technology in event decoration ideas, a centrepiece display is a fun way of keeping your guests involved. To boost visibility for people in the back, employ simple event decoration ideas like brochures to display event information, presentations, or photographs.
Have you ever considered utilizing a chair as one of the wedding event decoration ideas? At any gathering, people need chairs however, that doesn't imply they ought to be placed in the same monotonous way they always are! Start by organizing the seats in a unique way to make your event stand out. To keep your guests involved, skip the typical banquet or theatrical format and go for communal seating.
Use simple event decoration ideas such as unique chair style to up the event décor. Get a range of sitting alternatives, such as sofas, bar stools, and bean bag chairs, as the location permits.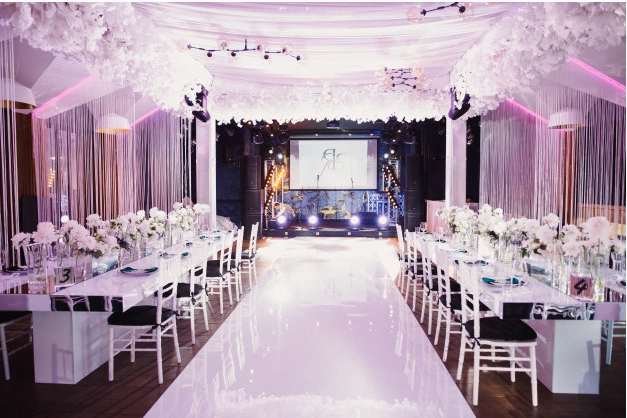 Visual stimulation can be provided by using decorative backdrops. It may freshen up your stage and give it a vibrancy without outshining what occurs on the stage. You can utilize a digital background or neon letters to direct your attendees' attention to the stage, depending on your budget. Digital backgrounds come in a variety of shapes and sizes, ranging from simple LED displays to honeycomb ones. They may be used to create unique effects that arise and fade during the presentation. Another interesting event decoration idea is to employ an augmented reality experience in which the speaker is integrated into the background.
When it comes to the temporary stage or event decoration at home, allow your imagination to go wild. You can draw attention to the stage and make it stand out by adding an elevated stage or a riser. To make it more eye-catching and interesting, choose statement pieces of decoration or more extravagant alternatives such as sofas. Try modular staging for quick sparkle. It's simple to put together and affordable. It may be integrated into your current stage or utilized to hold events at places without a stage — these simple event decoration ideas are that customizable!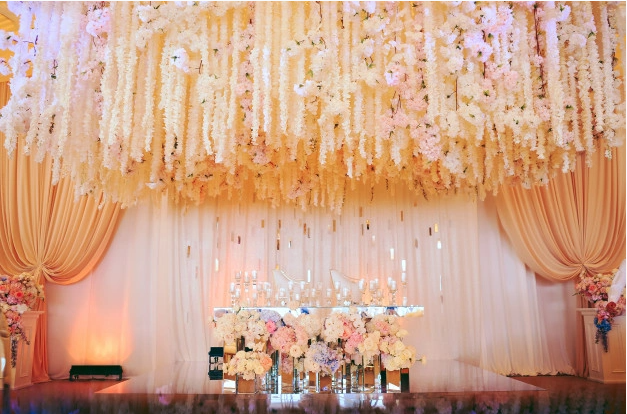 Whenever it comes to putting presents as part of the event décor, you're only limited by your creativity. As part of the presentation, little gift bags wrapped in appealing packaging can be included. A hidden present brings out the child in everyone and adds another layer of décor to the table. Gifting at conferences is frequently underused. These event decoration ideas have the potential to thrill people, create excellent branding, marketing, and sponsorship opportunities, portray your company in a favourable manner, and serve as a beautiful item!
9. Sophisticated Lighting
Lighting is a critical component of any event especially as wedding event decoration ideas and it can radically transform the appearance and feel of the space. When it comes to lighting design, the sort of event counts. If guests wish to take notes during a conference, there must be adequate light in the central section for them to do that. However, the environment should not be so bright that it distracts from the onstage performance.
The power of digital technology and media has made it much easier for event planners to make event decorating a lot easier. Using a social wall, which collects your guests' social media posts on a huge digital display, is one of the finest methods to engage people and make your event unique. Encourage attendees to upload event photos using your hashtags the day of the event, and then display those postings on the wall! Digital event decoration ideas leave a lasting effect on the audience.
We at
The Wedding School
provide professional training and offer Certified Courses in wedding and event decor. Dedicated to training and assisting young people who want to grasp the intricacies of the service business and excel in the exciting and promising realm of beautiful events.