2020 will go down in the books as something that has irrevocably changed everyone. Many have plunged to the bottom due to the coronavirus crisis; the 'big fat Indian wedding' is undoubtedly one of them. Sadly, those big fat Indian weddings now present themselves as ominous super-spreader events in our coronavirus-affected world, to only be scorned by everyone.

So while the government rules still enable a limited number of individuals to gather for a wedding, It calls for new ways of living and celebrating as the pandemic took away most of what we took for granted. And when it comes to weddings, virtual weddings are the perfect way to minimize the 'distance' from social separation. They encourage you to get married while staying healthy and also include all your loved ones as a part of the celebration without putting anyone at risk.

Since many couples are still wrapping their heads around the virtual wedding concept, they do get a little bit distressed regarding which wedding traditions and customs to include. Here we have come up with a list of all the Indian wedding traditions that can be organized during a virtual wedding celebration.
Engagement- exchange your hearts.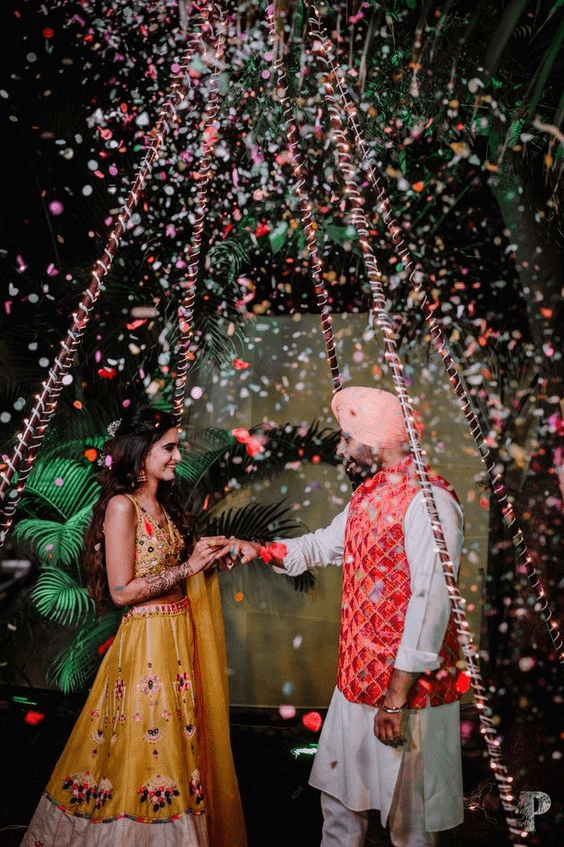 We just want our wedding day memories to last forever. And you can get just that with virtual weddings as well. While dressed up, visitors can post selfies, leave messages in the guest book, and even share videos giving blessings to the couple. With confetti and background dancers on the stage too, the engagement ceremony or ring ceremony is often celebrated in full swing. You could host a virtual ring ceremony while that idea is off the table for quite some time due to the lockdown and pandemic. They can purchase their separate rings and wear them on a video call if the bride and groom are not in one spot. They will exchange their rings if the bride and groom are together, while their nearest and dear ones bless them via the video call. Your photography team can still capture photographs of various rooms inside the discussion, as well as of guests celebrating. These memories and blessings can be compiled into a lovely video or album, according to your liking.
Colourful Mehndi ceremony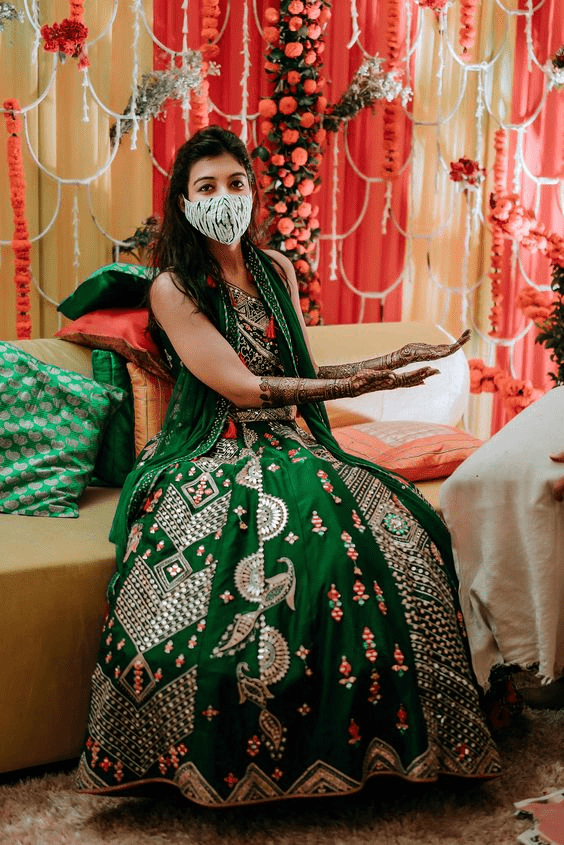 In our Indian wedding traditions, when the bride has the red-orange mehndi "stain" added to her wrists, back of hands, and feet, it is considered as a Mehndi party and is the pre-wedding celebration. Usually held the day before the wedding, with colourful pillows, the celebration also has a lounge feel. The Mehndi group has the most influence on girls as far as wedding celebrations go. Since it may take a long time for Mehndi to apply, entertainment is a must. Indian music and dances are usually there. Through video calls and virtual meetings, you can make sure that your aunts and sisters can dance on those Bollywood numbers and sing songs for you.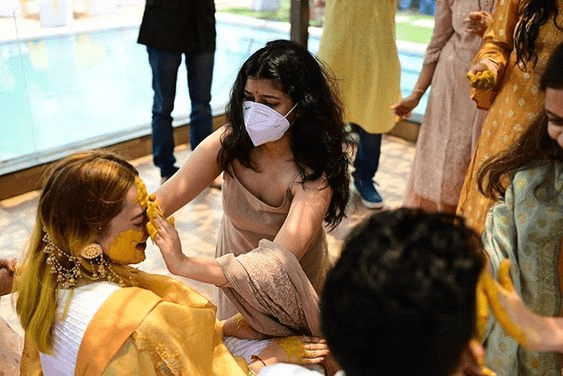 Mostly on the morning of the wedding day, the Haldi ceremony, sometimes referred to as the pithi ceremony, takes place. The bride and groom in their individual homes are applied a thick yellow paste made out of turmeric and sandalwood. The yellow colour means charm, fertility, and integrity, and it also wards away darkness and harm, preparing the couple together for life and blessing both with good fortune. Although only a handful of individuals can be physically present with the turmeric and sandalwood paste bowl in hand, on virtual platforms, the rest of your friends and family members from your guest list who could not make it to your wedding can watch it via a video call.
Sway at your virtual Sangeet ceremony
The Sangeet Ceremonies should usually be part of the formal engagement event, but they are individually performed in recent times. Thus, with this festival, the joy of the wedding expands once again. Although the sangeet ceremony has been put on hold for a more significant cause along with the wedding, you still might enjoy a virtual sangeet ceremony. Please ensure that your friends and relatives have a strong internet link to buffer their dance performances so that you do not miss any moment. All those dance practices can still be fun and lovely. Together with your aunts and relatives, your cousins, nieces and nephews can all do their bit of performance within their homes while recording it live, and from the comfort of your house, you can enjoy your virtual sangeet. Being at home doesn't mean that you can't go all out with your dresses. Groups can discuss and agree to wear the same coloured outfits or the same type of jewellery to stand out in those video calls and make the event a blast!
Wedding day virtual celebration
Most couples have indeed started experimenting with wedding celebrations online. There are several ways in which online weddings can use technology today. Facebook Live or other virtual platforms will broadcast the wedding. There were also times where the bride and groom were both in one location, but via a video call, the priest who was to commemorate the marriage was on board. Guests can dress up in finery and participate from their lounges via video calls. And delivery services will provide the exact same menu to each guest when the time comes for the feast.
Greetings session – raise a toast.
We stand for 'Atithi Devo Bhava' or 'Guest is God,' as a community. This has historically been the hallmark of our weddings. It's no different from virtual celebrations. The level of engagement that guests experience is what makes a virtual ceremony a success. And every part of the wedding needs to be thought through to make that happen.

The wedding website is where the couple shares their story, details of functions, gift registry, photos, live stream, and video chat content, guest book, and more. Guests can come here and leave comments, talk and live stream the ceremonies with other guests. Including some time for an open mic session where your family members can say just a few words in celebration of your big day is really special for you. To get the party started, they should share a funny story or two. The secret to getting a perfect virtual wedding is a good website that is updated frequently.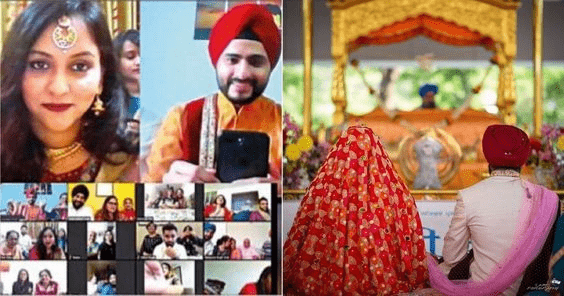 Taking those family photographs is a wedding tradition. Numerous models and photographers have pledged to resume working by FaceTime or any other video calling medium with all the companies at a break. At one end of a FaceTime call, the photographer is, and the subject is on the other. Hopping on this all-new trend's bandwagon is easier than it sounds. It has its own challenges, but when sitting locked in a cage in our homes, it's all about letting the imaginative juices flow and thinking out of the box. Photographers get a rare opportunity to challenge themselves creatively by making inventive use of the limited spaces with a FaceTime photo shoot.

But, to make every picture count, there are a few basics that a couple must get correct. Please ensure you recruit a photographer who might assist you with the FaceTime photoshoot idea. Dress for the virtual photoshoot camera and encourage your friends and family to capture those fun screenshots and images over the video call as well. You could also appoint a photographer who could really click on the incredible images of your virtual wedding ceremony in your courtyard or patio. In the end, let loose and enjoy the moments of your eternal tie-up.

A wedding's purpose is to commemorate the couple with their loved ones and relatives and their love story. We urge couples to prepare ahead full throttle, strive to be motivated, draw inspiration, and share their information. You know your wedding will be remembered and celebrated, for years to come! Be prepared and have your arrangements in place for the best wedding ever.