When you think about the ultimate wedding, a big guest list, full week agendas, and over-the-top wedding festivities comes to mind. Regardless of whether it's for an entire weekend in a charming farmhouse or even at home, typically the point of view is: Bigger is better. However, hosting an intimate wedding isn't always a simple and modest affair. Sometimes the peacefulness and exclusivity that an intimate wedding brings to the table is a perfect way to celebrate a meaningful wedding with just the people closest to the couple present to bless them. Intimate weddings, truth be told, open a totally different domain of opportunities for you to explore and plan a luxe fairytale. From personalisation of unique venues for intimate weddings to non-traditional approaches, intimate weddings are a success among numerous millennial couples for a variety of reasons.
There is something special about intimate weddings. In addition to the fact that they are less stressful and simple to plan, they also give you an ideal opportunity to cause your guests to feel extra special. Also, you get the opportunity to save a ton of time and cash!
1. Make It A Destination Wedding: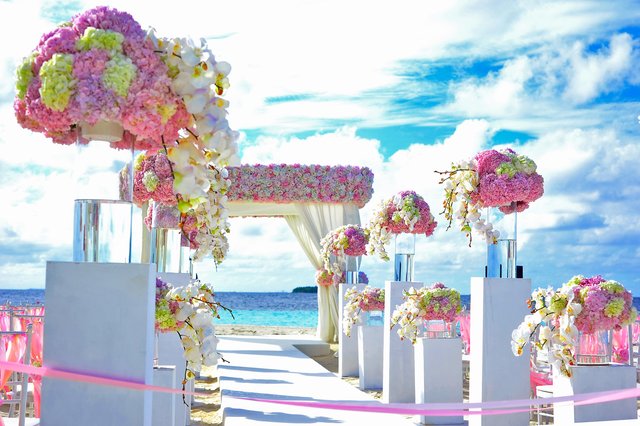 There is no uncertainty that a shorter list of attendees is simpler to create. If you have always dreamed of having a gorgeous palatial wedding in Udaipur like Priyanka Chopra and Nick Jonas or getting hitched in a wonderfully intimate wedding in Tuscany like #Virushka, a v wedding is your most obvious opportunity for it. Getting your friends and family ready for a small scale wedding, and organizing the itinerary plans is simpler. A bigger list of guests need much more robust planning and plans frequently go haywire and cause a lot of stress when not dealt with perfection and tolerance.
2. Be Open-Minded Towards Unusual Venues: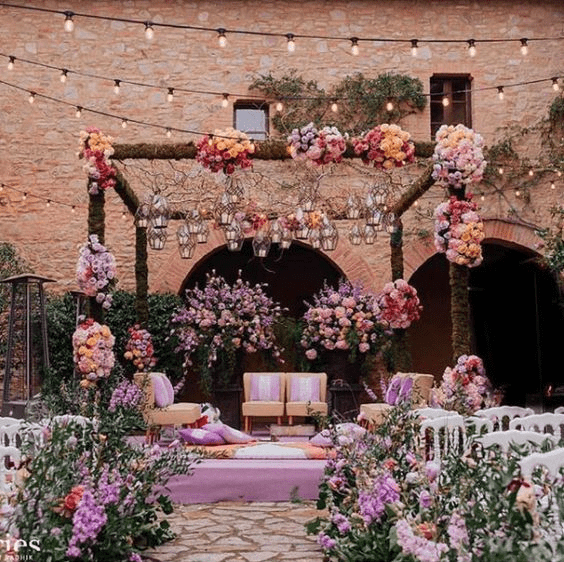 While a customary big fat Indian wedding is definitely an affair that requires a huge wedding space to accommodate the festivities easily, an intimate wedding is different. And if you decide to have an  intimate home wedding you can probably DIY the home wedding decor too for a personalised feel. Intimate wedding venues incorporate unique settings splitting from the standard choices made by the to-be-weds nowadays. A dazzling setting on the top of a hill, a heritage site or a beach you love probably won't permit a lot of people and an intimate wedding is the best way to planning the wedding you have always dreamed of without any problems at least in this department. Pick a spot in the forested areas for a rustic wedding or a hill to have the dusk as your scenery as you perform your saath pheras to make it an unforgettable occasion for all to be blown away by the tasteful ambience.
3. Personalised Invitations:
Printing out beautifully creative invitations and sending them out to the list of attendees of 300+ individuals is a dreary job that needs to be done. It isn't just tedious yet additionally, this undertaking is frequently given over to experts or done by another family member. However, when you plan an intimate wedding, you can invest more energy in designing elaborate cards and really trying different things with handwritten templates or high-quality envelopes to customize it for the visitors to feel much more close and unique. Handwritten cards have their own appeal. Gorgeous watercolour designs or plantable cards are some creative ideas for personalised wedding invitations. You can even send boxed invitations with customized favours curated for the specific guest getting it.
4. Personalised Welcome Gifts or Wedding Favours: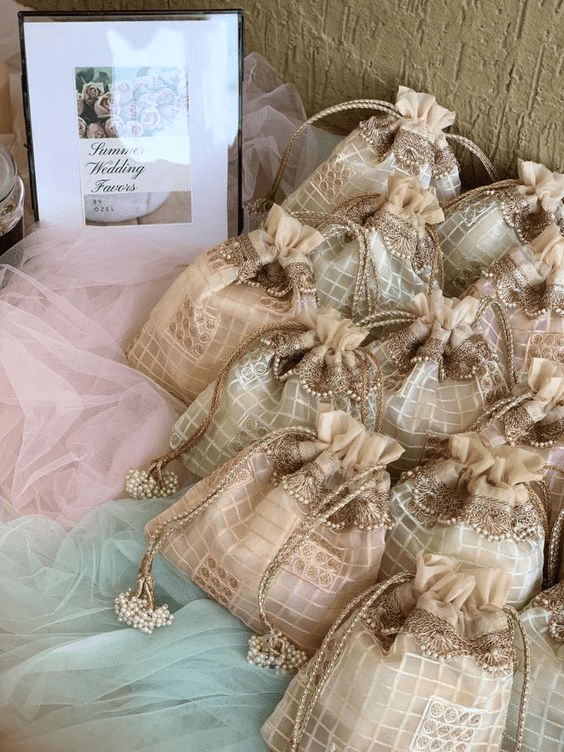 To make your guests feel extra special. Perhaps drop off curated snack boxes the night before the wedding for the following morning, or leave unique messages in their rooms each night with little gifts of what's to come right until the last day. There are special presents for bridesmaids and groomsmen that you can assemble and for your other guests as well. Doing the same for 100+ visitors could be troublesome yet for intimate weddings, you can really put your heart into it and plan various gifts to be enjoyed by your guests. You and your wedding planner can get together and pack them in quirky and delightful ways. It is a wonderful gesture and you can avoid the conventional favours to pick your own welcome box and gift sets.
5. Jazz Up The Wedding With Vibrant And Quirky Decorations:
With a simple wedding on the books, you can design your wedding decor in a more detailed way especially when it is an intimate wedding. Intimate weddings are your space to explore different avenues regarding DIY decor ideas. From reusing those glass bottles and cardboard boxes to making DIY wall hangings, dreamcatchers and the sky's the limit from there, there's a ton you can do.P.S. take out those additional beddings, cushions and pillows to make personal and comfortable spaces in your homes! The decor in a bigger wedding venue isn't equivalent to that of an intimate wedding where more focus lies at one spot. It is simpler to get everybody excited about the theme of the wedding when the list of people attending is smaller. You could have themes for the outfits the guests can choose particularly if it is a destination wedding like a beach wedding with flip flops and flowy floral dresses.
6. Opt For A Personalised Food Menu: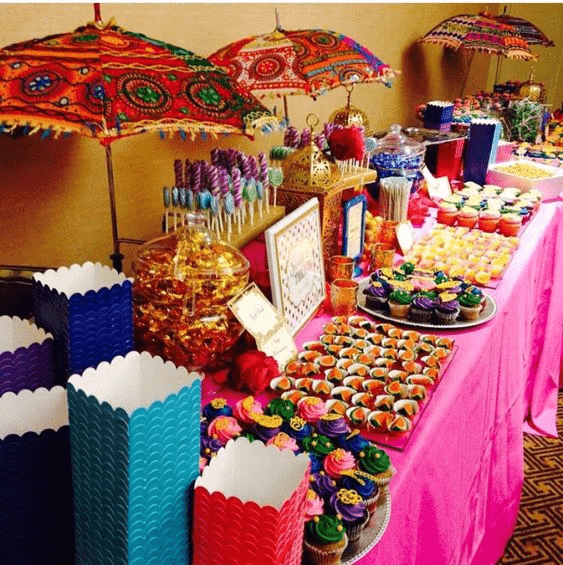 While an over the top wedding with a big list of attendees may constrain the things you include for your wedding catering, with an intimate wedding you can go big. Rather than arranging a four-course feast, you can move up to a scrumptious seven-course supper with an assortment of appetisers and snacks doing their rounds on the table. An intimate wedding doesn't generally mean having a smaller budget, it can likewise imply that there is simply more budget for your per-head count. A customized dessert counter and an extravagant bar may very well be ideal for your intimate wedding.
7. Make Your Entertainment OTT (over the top):
In the event that you want more of a party ambience instead of a basic dinner party, go over the top with the entertainment to keep your guests' entertained and the celebration fun. This can include a dance performance, a photo booth, or even a themed performer. You can even incorporate an open mic session. Pass the mic around the table during cocktails or after supper perhaps and hear your guests tell some pleasant or funny anecdotes about you or your partner at your wedding. These are after all the recollections that one carries everlastingly in their souls.
Since you and your guests stay together in the same place even before the wedding festivities begin, intimate weddings permit you to split away from the traditional course of events and appreciate some extended celebrations. Try to keep your guests involved consistently, be it through conversations or fun games and activities that you have planned for the days. You don't need to say farewell after the wedding. Rather, you could enjoy a delightful formal brunch the day after or a spa session to rinse off the festivities of the previous day.
Intimate weddings in India provide a luxe guest experience where the bride and the groom really get enough time to spend with their friends and family who are at the wedding. It doesn't need to be without the 'Band Baja Baraat' sort of a wedding function just because it is intimate. You can spend lavishly on everything possible with regards to the wedding budget and plan an OTT good old fashioned Indian wedding at its best, but just with a bunch of your loved ones to grace the day. Regardless of whether it is an intimate wedding, connect with the expert wedding planners to make the wedding planning process less stressful and perfect.