Winters call for two things: the serene & pious white snow and a Winter Wedding! There are different reasons why people prefer planning for winter wedding more than any other time of the year. The first and foremost reason is the favourable climatic conditions, as not everyone can afford the expenses of air-conditioned venues. And, since most of the population opts for a winter wedding, this season becomes a profitable time for wedding planners.
If you are starting fresh in your wedding planning career or assisting a relative/ friend in planning for winter wedding, this blog will be helpful to you. Follow the blog till the end and plan the most memorable winter wedding.
Select A Colour Palette For Winter Wedding Ideas 2022
There's something mystic and romantic about a winter wedding, and to make it more charming, you can start by selecting a colour palette before planning for winter wedding. You must have seen celebrities' weddings, where all the guests wear outfits of the same colour theme, and the bride and groom adorn their matching wedding outfits. This is one thing that wedding planning experts swear by to make a beautiful and dreamy wedding: to pick a colour and follow it.
These are some most trending and beautiful colour palettes you can choose for winter wedding ideas 2022:
It won't be wrong to call white the winter colour when everything is covered by the tranquillity that is snow. And if you are planning for winter wedding, white on white colour palette can be the most romantic and beautiful option. Choose a snow-covered venue and drape the surrounding with white cloth, flowers, and lights. We assure you that nothing can beat the calming nature of the colour white, and winter wedding demands all that and more.
Crimson, Merlot, and Burgundy
What's the first thing that comes to mind when you see the crimson colour? It's not hidden that it's the colour of love, and if you are looking for winter wedding ideas 2022, nothing can beat the beauty of crimson and family. You don't have to pick everything in merlot, burgundy and crimson shades; subtlety is the key here. While planning for winter wedding, use crimson flowers to add a pop of colour and make it a sign of love.
Blue, Grey-Beige, and Metallic.
There are other colour palettes that you can choose while planning for winter wedding, like this one. Blue, grey and metallic bring out the glittery glam, so if you want the wedding to have the popstar element, going by this colour palette seems the right option. You can use metallic disco balls, blue flowers and grey-beige colour furniture to add the decor and make a hit winter wedding.
Black, Gold, and Greenery
Lastly, the colour black! It's the right colour palette out of other winter wedding ideas 2022. The colour black will bring gothic vibes, and gold will represent the novelty. Finally, the colour green will act as a pacifier that will neutralise the effects of black and gold while bringing mysterious forest vibes.
We advise planning for winter weddings early, as you will need time to break down the needs and wants to make the most romantic and inspiring winter wedding.
Set On A Winter Wedding Trend
Apart from picking a colour palette, there are other winter wedding ideas that can make a wedding memorable and exciting, such as candle lights. You can always add something creative and fun to your winter wedding to amaze the guests. While planning for winter wedding, you must keep some factors like guest number and menu in mind. However, decor takes the most dedication while planning for winter wedding.
Follow these winter wedding trends and plan the most catchy and remarkable winter wedding:
When choosing pop colours and aesthetics for winter wedding ideas 2022, you can lay down and pick simple wedding cakes which look chic and elegant and, most importantly, don't take the attention away from the decor.
Candle light & Champagne Tower
Candle lights are back in all their glory! For winter wedding ideas 2022, pick this classic element and set the mood for the ceremony. Moreover, a champagne tower will be the right choice to add a special element to the winter wedding. Position them accordingly on the venue and get a dreamy appearance.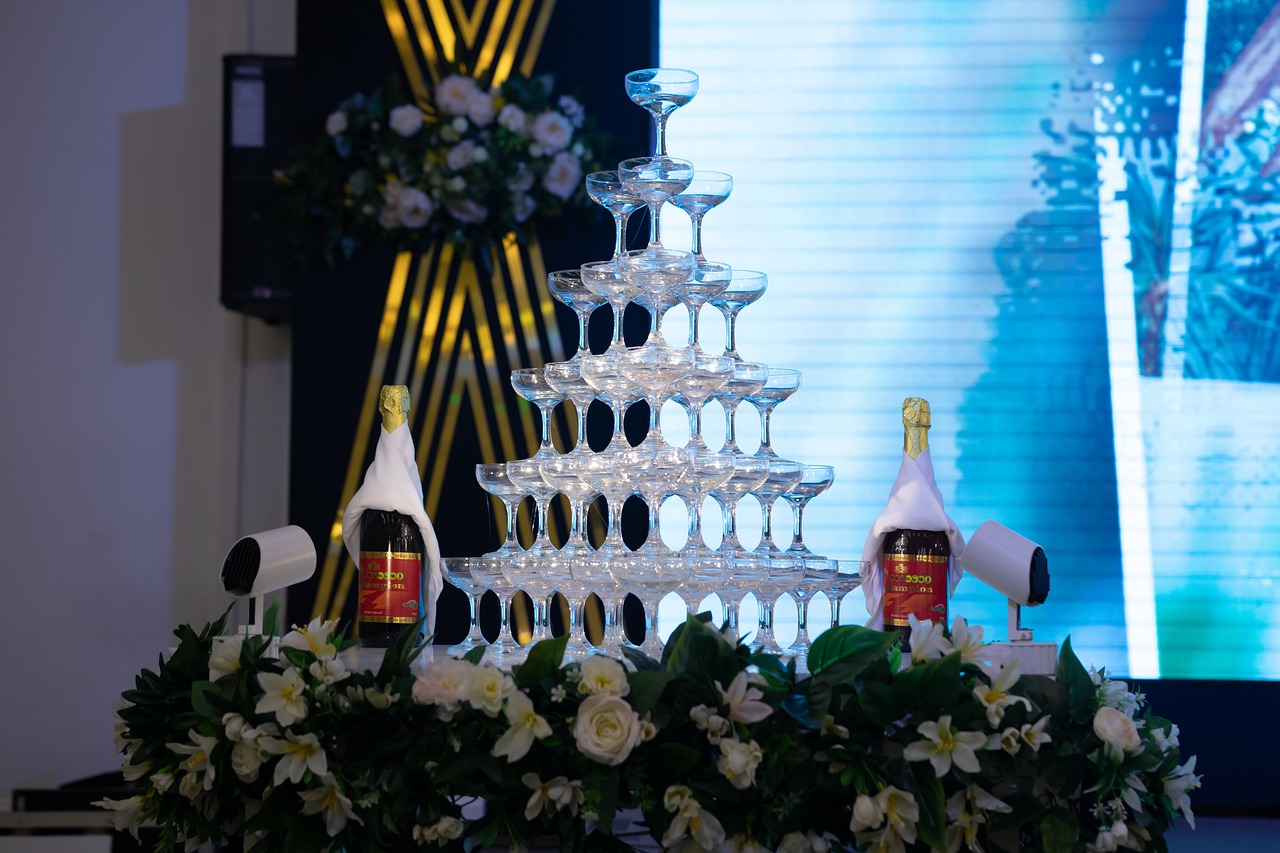 As we have already said, the white colour is in rage, and all white bouquets are highly on trend. Place beautiful bouquets on every guest table and get a natural and calming aesthetic.
If you want to learn more about how to plan a winter wedding, choose The Wedding School. We are a wedding planning institute that teaches you the ins and outs of the wedding planning industry, and we will prepare you for the future through our designed courses and teaching methods.
Visit our website and learn everything we have in store for a successful wedding planner career!