Wedding Planning is not everyone's cup of tea. In fact, a basic sense of designing and organizing is not enough to plan a wedding, especially if you are dealing with an Indian family .  An Indian wedding planner needs to keep this in mind that it's not just the wedding of two people, rather it's the wedding of two families. Its not just a wedding anymore it's a statement in society that leaves a mark forever. It's not just about the rituals its about creating trends that can make your wedding go viral.
These dynamics can be attained only if the teams working on the wedding can look at every moment beyond their call of duty. This is what The Wedding School set out to achieve when we started our journey in 2018. There is a growing demand for younger, brighter, enthusiastic boys and girls who have the passion to give up their personal celebrations to create an outstanding wedding for a client . Through our search we have been able to come in touch with youth who have the zeal from within but need to be supported through education, knowledge and the technical know-how . TWS has proudly given the Indian Wedding Industry some great talent who can, not just skilfully execute a wedding but also be a vital contributor towards the designing and planning of a Great Indian Wedding. This is what is required to nurture the talent to become a part of larger than life weddings.
We have successfully completed 2 batches of diploma courses in Wedding Planning and Management. Our students came from different career and educational backgrounds. What surprised me was the over whelming curiosity that youngsters and their parents had towards weddings as a career option. Not all had the courage to take it up but we were sure we wanted to create an awareness about this industry and the potential it holds.
Our courses are personally designed by me so as to be relevant and closest to reality with the experience of having partnered with a large scale successful Wedding Management Co. A combination of nearly a decade and with my personal career of 2 decades that I have had with in the  Events & Entertainment Industry – the students have an ample amount of experience to learn from. The students were given formal education by the industry experts in a program created by Dr. Usha Parikh, an academician and counsellor who has spent over 4 decades in the field of education. The subjects we taught them included décor, entertainment design, show running, hospitality and logistics etc.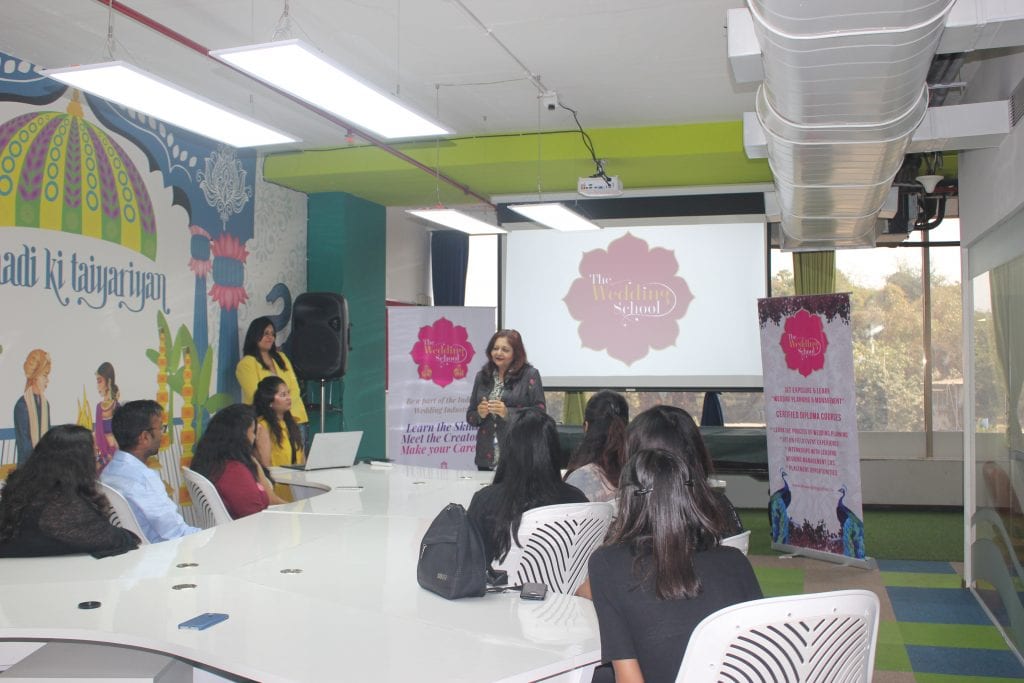 The Wedding School Internship:
Our students have had an outstanding chance to work with some of the leading planners and companies of the wedding industry.  The motive and values are integral to us that; 'one has to invest time in oneself and at the back end in order to be a noteworthy contributor.'
They got a chance to prove their capabilities in their respective internship placements that The Wedding School provided to each student. Some of them interned with; Horizon WIE, Tamarind Global Wedding, Swaaha WMC, Dreamzkraft, Momente Wedding Planners, ThankYou Logistics , Effects Tech to name a few.
TWS understands the expectation that the industry has from us and the responsibility that comes along.  Our motive is not to create a planner out of every student, but to create contributors for the Indian Wedding Industry and help those with an entrepreneurial skill to best the best and raise the industry standards whilst making wealth and fame.
Our  values are integral to us, hence I loved the experience of personally  investing time in nurturing each student and thus create a noteworthy contributor.
We are Looking forward to the  3rd batch which commences on 15th August 2019. For course and admission details feel free to contact us :
Call: +91 9820389809
Email ID: info@theweddingschool.in
We are thus extremely excited with the successful conclusion of our first two batches and are proud of TWS as it serves as a boon to all those enthusiasts out there who have a natural streak for management and who don't wish to be in the grip of stereotypical career choices thrown by the society.