Top 5 wedding stage decoration ideas
A wedding is a grand celebration, and everybody wants their wedding ceremony to be remarkable and standalone. Everything needs to be perfect and charming, from the bridal outfit to the dinner. One of the most prominent parts of a wedding is stage decoration, where the bride and groom perform the marriage rituals. A perfect wedding stage decoration is more than just arranging flowers and other decoration items. Unlike most arrangements, a unique stage decoration does not come overnight, thus, you need professional assistance.
If you are looking for unique wedding stage decoration ideas, we have compiled a sorted list. Check out some of the exquisite ideas and choose the best per your preference.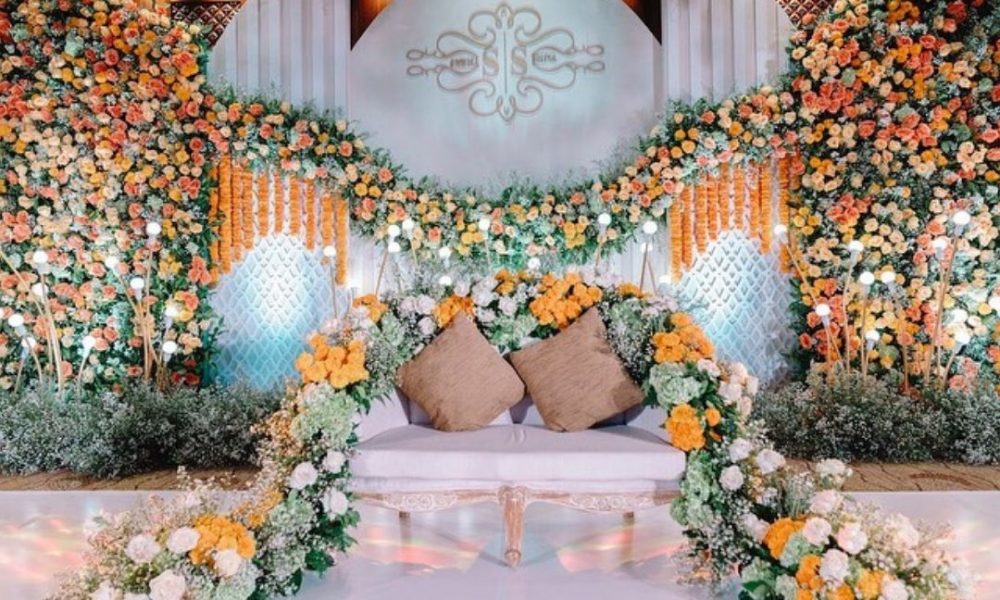 Add glory to your wedding stage with these five ultimate decoration ideas
With the availability of more & more resources and high end skill sets, people are becoming more innovative with wedding stage decoration. With a few elements like designer sofa, fancy lights, floral backdrop, lavish carpet and decent decorative accessories such as planters and candle stands, you can amp up the beauty of the wedding. We have discussed a few wedding stage decoration ideas involving these items to make your big day special.
White and gold flowers to add a luxurious feel
Gone are the days when bright hues were the only choice for stage decoration. Wedding stage decoration using white flowers will give a charming and sophisticated look. And pairing up with golden colour will make the stage stunning without extra effort. The combination of white and golden colour will give a royal and grand feel to the wedding. A specialist event decorator knows how to get the job done. So trust the most professional wedding planner near you to make your special day even more special.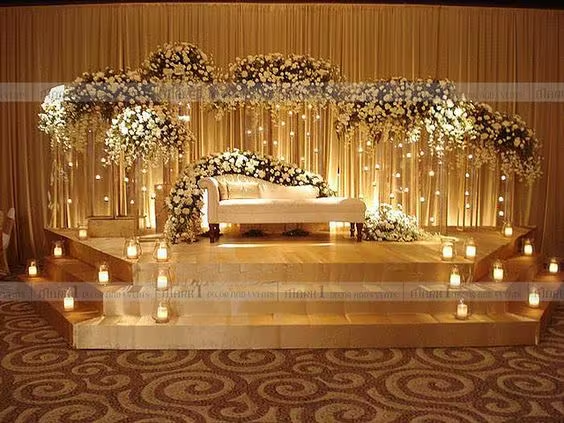 An appealing rustic setting in hues of white and green flowers
Everyone seeks unique wedding stage decoration ideas to set their space different from others. A rustic theme consisting of wooden drums, varied candle stands, a decent planter decorated with white flowers and green background is a classic wedding stage decoration theme. The look will come out perfectly with dim lighting on the stage. The rustic look is the simplest and most unique stage decoration idea that will never go out of trend. If you like sober and simple decorations, this stage decoration will be perfect.
A shimmery and starry stage like a fairytale
The stage is the heart of the wedding ceremony; it has to be highlighted, and nothing can do it better than incorporating a shimmery and starry theme. Shimmery golden strings, oversized flowers, and silver & white hanging adornments are among the best wedding stage decoration ideas to add-on to your plans. A glittery stage in white and golden colour with a white seating arrangement and golden candle stand alongside will give a perfect fairytale feel. If you love cool and calm colours, nothing can beat the combination of white and golden. A shimmery and starry theme will enlighten your wedding stage.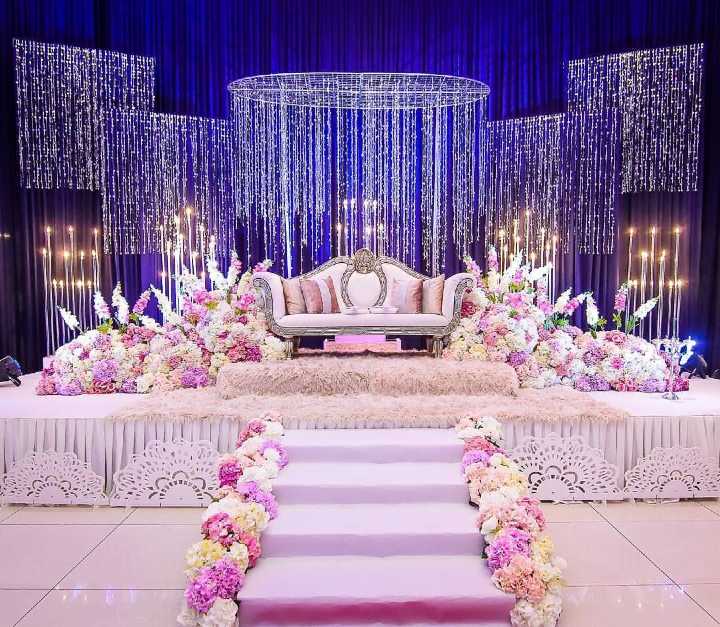 An awe-inspiring floral stage
Another beautiful wedding decoration idea is a flora-laden stage in multiple colours. An over-decorated stage with flowers will create a perfect ambience for the event and immediately capture the guest's attention. A simple floral arrangement with a white sofa in the centre adds a distinct touch to the wedding ceremony. Pink, peach, yellow, white, and green are the standard colours; you can choose the colours and flowers as per your preferences. The blend of colourful flowers will make the ambience appealing.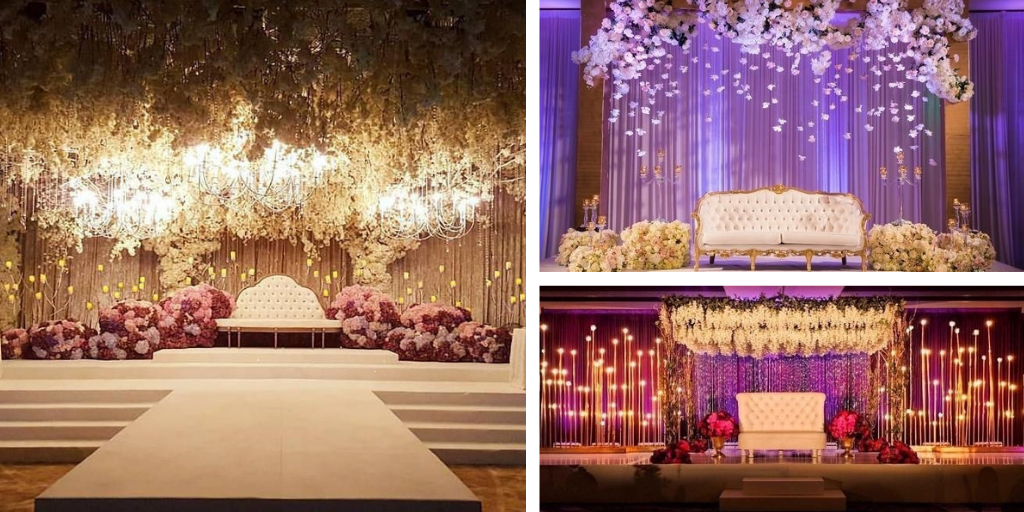 Get a regal look with a drape setting and antique vessels
If you want to celebrate your wedding in a royal way, this one is among the best wedding stage decoration ideas. All you need to do is ━ set a bunch of fresh flowers at the back of the sofa, and hang golden drapes with lighting at the roof above the couch. Place traditional candle holders of an antique metal touch in the back of the couch. This will create a lovely wedding stage decor. While choosing the sofa, make sure it looks highly traditional to achieve the desired look.
Wedding planning or stage decoration is not an easy job, as you need to be perfect and come out with unique ideas for every event. If you seek genuine guidance to plan a wedding decoration, The Wedding School is the go-to place. Our wedding design and decor course are recognised in the industry. With certified trainers and a student-focused curriculum, we offer live online and hybrid courses all over India. Whether you are looking for a wedding planner certification or just brush up on your business skills, we have many options available for every learning style, budget and schedule. Connect with us to learn more and check out fee structure and enrollment process online.