The most significant day in a person's life is undoubtedly their wedding day. It may be our wedding or someone dear to us. We will strive to make this a day to cherish. We attempt to include all parts of creativity into everything we do, from shopping for clothes, preparing dances, to arranging our entrances and organising the entire wedding decorations. We all understand that unique and attractive décor is just what sets a wedding apart from the rest. Décor boosts the venue's entire appearance and helps it appear gorgeous in pictures. Flower decoration for weddings is already popular in recent years and can be seen all over the globe.
Without flower decorations, any wedding is not complete, from floral swings to flower-draped stages. Flower decoration for weddings is popular these days as they give your venue an elegant and fresh appearance. Some of the lovely flowers that bloom with the arrival of the wedding season may be utilised to decorate your wedding venue, and how!
Top 12 Best Flower Decoration For Wedding
Even though there are so many options of flowers to choose from for flower decoration for weddings, there are several particularly popular fresh flowers that are used to give an ethereal look to your wedding. Let's have a look at some of the more well-known types of flower decoration for weddings.
Rose – The Queen of Flowers, with no doubt, is among the most prominent flower decorations for weddings and receptions. There is arguably no other flower that compares to roses in terms of attractiveness, beauty, splendour, and scent. Roses come in a wide range of colours, scents, and general charm, all of which enhance the beauty of the event. For a long time, roses were often used to decorate wedding backdrops, but the contemporary beautifying and ornamental designs have changed dramatically. The latest patterns and designs are distinctive and elegant, with a hint of traditionalism.
Another trendy flower used for flower decoration for wedding settings is the marigold. These flowers are orange or bright yellow in colour. These are the shades that reflect good fortune and grandeur, making them ideal for wedding décor.
Also, check the latest government-issued guidelines on wedding and reception ceremonies for fine implementation of a fairytale wedding.
Tuberose is a flower with a unique scent that grows stronger as the night unfolds. Tuberoses are commonly referred to as the "Queen Of The Night." Their flawless white hue foreshadows a future that will be clean, beautiful, pristine, and filled with everlasting bliss and makes the best for flower decoration for weddings.
In recent years, these exotic flowers have become beautiful flower decoration for weddings. Orchids come in a wide range of hues, allowing you to play with different themes. Orchids are a favourite choice for modern wedding flower ideas since they express flair and refinement.
Another popular option for flower decoration for wedding sites is lilies. These flowers are a favourite option among floral stylists, particularly for events held during the daytime.
Jasmine is a little white flower with an enticing fragrance. Many couples choose this delightful flower as part of their own bridal bouquet or as the flower decoration for wedding venue and stage decorations. They are prized for their fragrant, deep scents.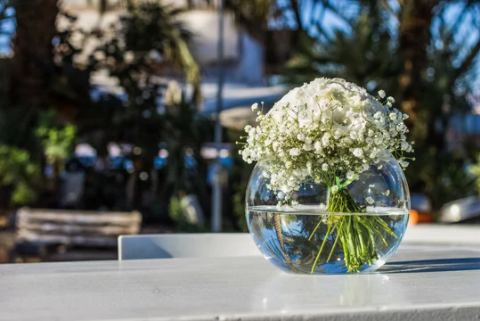 Tulips are very beautiful flowers, available in a wide range of colours. These flowers may be included as flower decoration for weddings to give the entire event a more contemporary and sophisticated appeal. Tulips will provide an elegant touch to the gatherings and may be organised and decorated to your taste.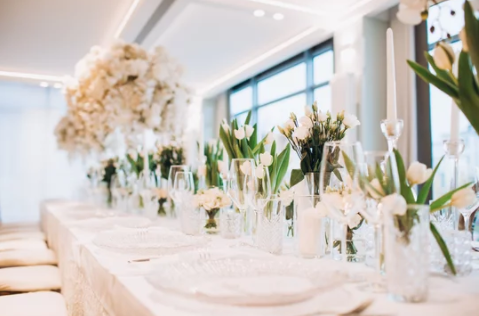 To create exquisite flower decoration for weddings that seems more velvety and richer, wax flowers are used. They range in lavender, white, and pink colours and have a light citrus scent that refreshes the air surrounding the decorations. Choosing these flowers in conjunction with other flowers that fit the theme can make your wedding decorations seem spectacular.
These exquisite and pleasant flowers will lend a touch of refinement to your flower decoration for weddings. They last a long time and do not immediately wilt. If the wedding reception is going to take long, these are the flowers to use as their fragrance lasts longer. Because these blooms' leaves are thick and waxy, they can also be utilised as decorations.
Carnations come in a variety of colours, including red, pink, white, yellow, orange, purple, and more. They're also available in bicolour varieties. Carnations are best used as dangling decorations on the Mandap or in the centre of each table. They emit a lovely scent that refreshes your fragrance in seconds, and this is the most popular flower decoration for weddings.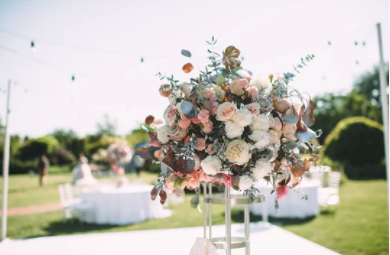 These large, gorgeous flowers are a budget-friendly and delightful option for flower decoration for weddings. Hydrangeas come in a variety of colours, including green, white, pink, burgundy, and blue, and are ideal for complete bouquets or filler flowers. The floral arrangement makes a spherical shape that may be hung from aisles or seats, used as table decorations, candlelight centrepieces, and, obviously, bride's and bridesmaids' bouquets. It is a highly regarded and multipurpose bridal flower due to its wide range of colour options.
A daisy's lovely fragrance is ideal for a relaxed garden wedding in the spring or summer. These flowers are inexpensive and easy to find, and they come in a variety of colours and sizes. You may choose between a basic white daisy arrangement and the vibrant hues of daisies for bride bouquets, groomsmen gifts, centrepieces, as well as other ideas for flower decoration for weddings. Daisies are frequently used as fillers or supplementary flowers in bouquets with more pricey flowers.
If you're still confused about which flower decoration for weddings will most suit your theme? Consult an expert wedding planner who has received professional and formal training. At The Wedding School, we train and teach aspiring event managers and wedding decorators. We cover all about trendy wedding decor ideas and the right flowers to match the wedding theme and how to make your day perfect!