Planning a big fat Indian wedding? Your wedding stage decoration is the main attraction of wedding pictures. From bride and grooms photos to guest pictures, everyone is interested in taking their best instagrammable picture on your extravagant wedding stage decoration.
A big fat Indian wedding is all about wedding decoration, lightning, bride's dress and location. The wedding stage decoration must always represent and celebrate the theme of the wedding. From the latest to traditional decoration there are many ideas that would jazz up your celebration even more.
Trending Stage Decoration Ideas For This Wedding Season
Designing a wedding stage decoration is the most memorable part of a wedding. Every picture of your wedding day is located near the stage. It must be beautifully decorated, comfortable for the bride and groom to sit, as well as very photogenic.
Check some unique and trendy designs that would add up more to your wedding theme and concept. We have listed top trending wedding stage decoration ideas that you can easily choose,
1. Classic Red And Golden Themed Decoration
The red and golden theme can never go wrong if you are planning a big fat Indian wedding. This wedding stage decoration will complement the red and golden dress of the bride and groom, making it look more lavish and classy. Add golden curtains for a traditional wedding function.
2. Flower And Fairytale Look
Make your wedding look like a fairy tale with white flowers and a heavenly look. This would add fragrance and make the wedding stage decoration look more surreal in the pictures keeping all the attention on the bright coloured dresses of the couple. A perfect wedding is all about the central stage with flowers that provide the best photogenic environment.  
Also, check the latest government-issued guidelines on wedding and reception ceremonies for fine implementation of a fairytale wedding.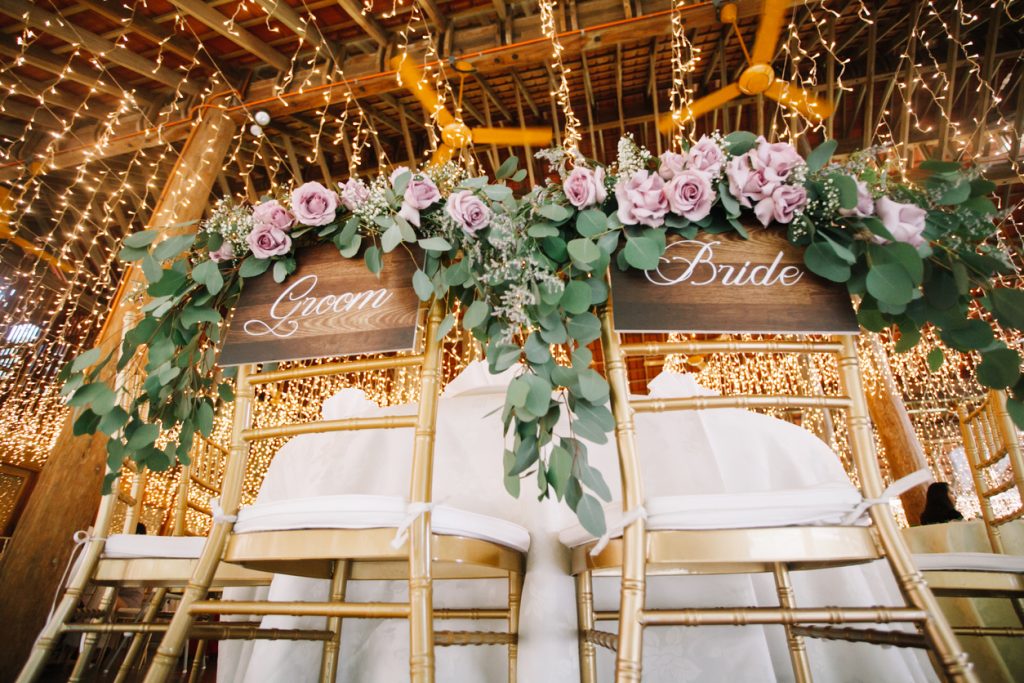 3. Soft Lit Candle Decoration
Few candles are enough to make any wedding stage decoration more aesthetic and romantic. Remember those candlelight dinners with your better half? Now make those candles more romantic by adding them to the stage decoration. Simple flowers and a flowy backdrop with dim-lit candles would make you fall you fall in love with the wedding stage decoration and the guest would not stop gushing over the beautiful wedding photographs.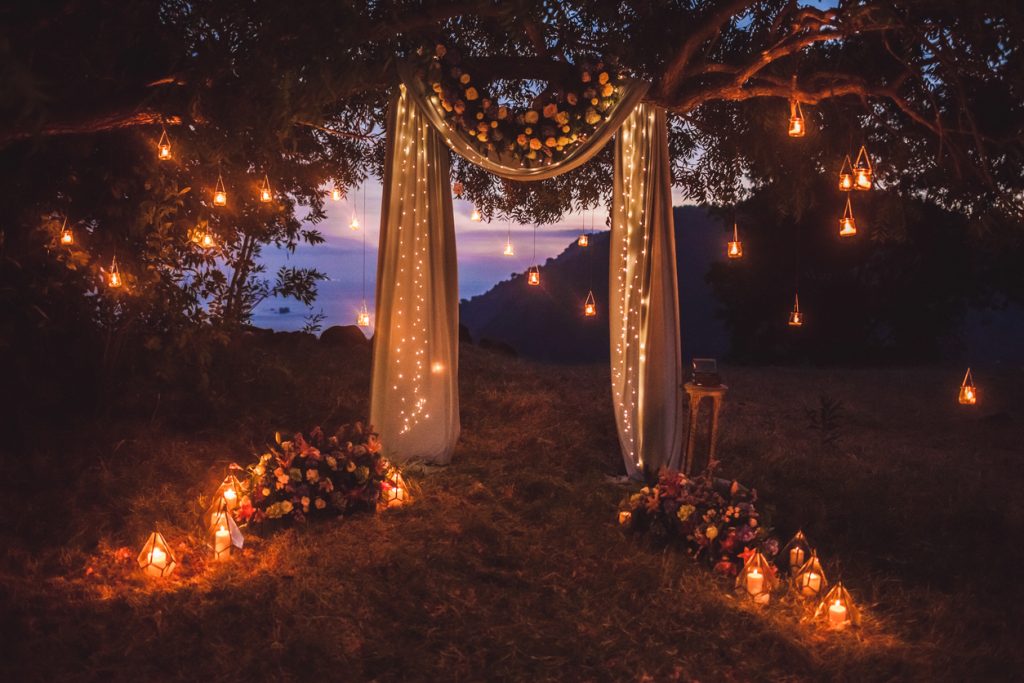 4. Bright Coloured Pop Up Decoration
It is not always necessary to be mainstream while deciding your wedding stage decoration when you can add pop up bright colours and a beautiful theme that is as colourful as your love life. Use pastel flowers and bright coloured amenities for decorating your stage. Try to be colourful yet simple for your wedding. Bright lights and a gorgeous theme are a trend for this year's wedding stage decoration.
5. Royal Stage Decoration
Royalty and class in your wedding theme can be nothing but perfect to add a jaw-dropping experience and charm to the surroundings. You do not have to share a royal bloodline to experience such an extravagant wedding, all you need is a touch of blue, velvets and gold to feel like royals. After all, every Indian couple is treated as king and queen. For your wedding stage decoration add blue drapes backdrop, a paisley sofa, a touch of gold and some lanterns to complement the whole stage for a perfect royal wedding.
It is completely fine to be a bit narcissistic on your wedding day. Having a wedding stage decoration with mirrors may sound a bit quirky but this would make you stand out from the rest. Setup the wedding stage with beautiful designer mirrors and a backdrop that represents greenery and vibrant colours in one frame. This theme is not very basic and flowery but would add up to the perfect wedding photographs with a more aesthetic background. You and your photographer can get creative with those mirrors for more captivating pictures.
7. Add Little Drama With Bollywood Decor
There is no denying that Bollywood weddings are a perfect combination of drama and class. We all have grown up fantasizing about a larger than life Bollywood wedding. And you can apply this theme to your wedding stage decoration. Use a lavish backdrop for that drama factor, with sapphire blue or emerald green sofa, and a reflective floor would bring the wedding stage to life. An arch or dome-shaped backdrop with a crystal chandelier could make anyone go aww over the stage.
8. Open-Air Stage Decoration
Bride and groom are a sight of particular interest for every guest in a wedding. And a wedding stage decoration is crucial to make the couple look more luxurious with open-air stage decoration. Try to make an enormous stage with white pillars, a white backdrop, and colourful flowers. A luxurious sofa in between surrounded by lights would make the sight more majestic and grand.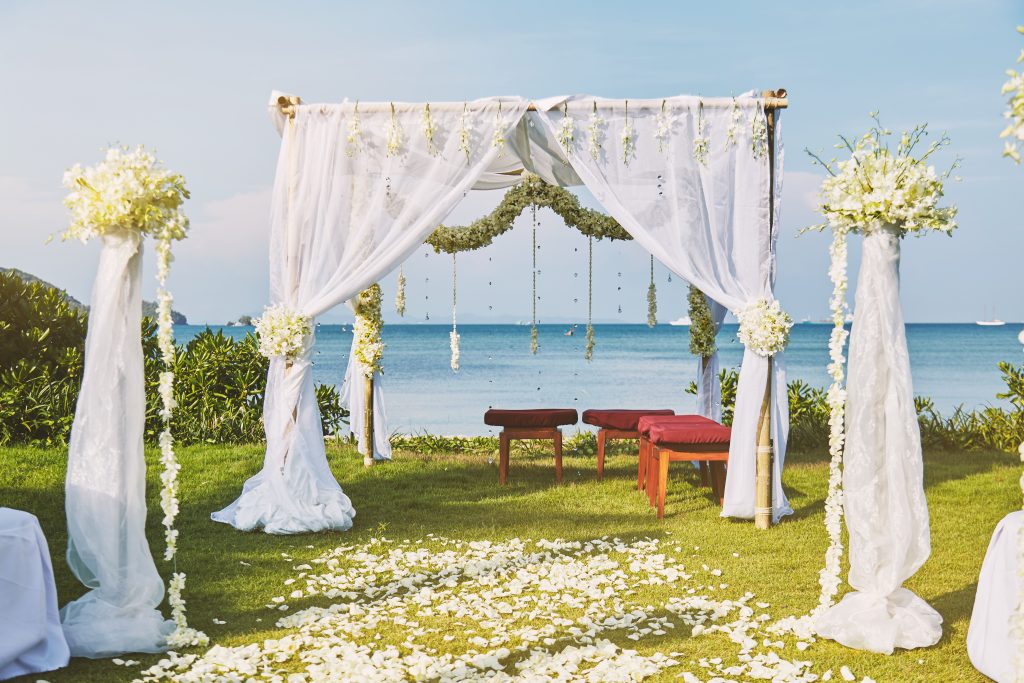 Destination and big Bollywood style weddings are a trend these days. And you could stand out from the rest, by planning your wedding stage decoration based on a theme. Your theme can be based on colour, season, or tradition. Your wedding stage decoration completely relies on the budget and concept of your wedding. Pick a choice that suits you as a couple and plan everything from a wedding stage decoration to food and mandap design based on that particular concept.
It is not always easy to design everything at your own wedding and you may require expert advice with some experience in the market. The Wedding School is an institute with highly qualified and experienced individuals that have deep knowledge about all the bits and pieces required for a wedding stage decoration and designing a whole wedding. Many young talents interested in event and wedding planning are joining the institute to attain better knowledge and gain expertise.