A wedding is a once-in-a-lifetime event, and every couple wants their big day to be special, memorable, and breathtaking. One way to achieve this is by transforming your wedding venue with draping. Draping adds a touch of elegance, romance, and sophistication to your venue, making it uniquely yours. In this article, we'll explore various draping ideas and inspiration to help you create a stunning wedding venue that reflects your personal style.


Why Use Draping for Your Wedding Venue?
Draping is an effective way to enhance the atmosphere and aesthetics of your wedding venue. Here's why:
Create a Unique Atmosphere
Draping can transform any space into a romantic, intimate, and enchanting environment. The right draping can make your guests feel like they've stepped into a fairy tale or a glamorous ballroom.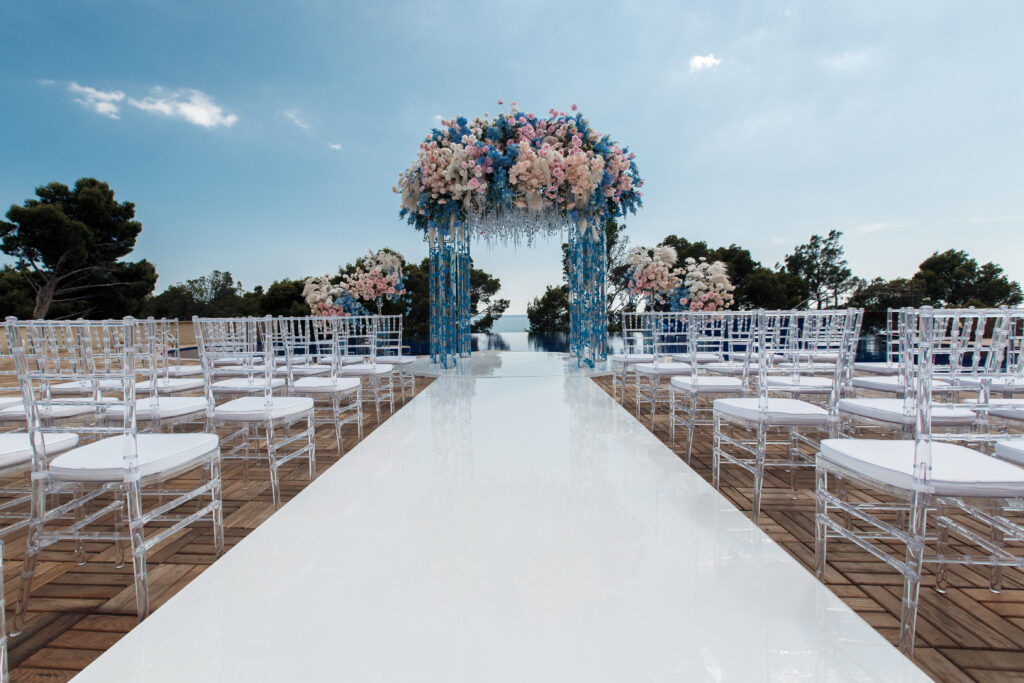 Draping adds depth, texture, and visual interest to your venue. It can make a simple space look luxurious and elegant or a large space feel cosier and more intimate.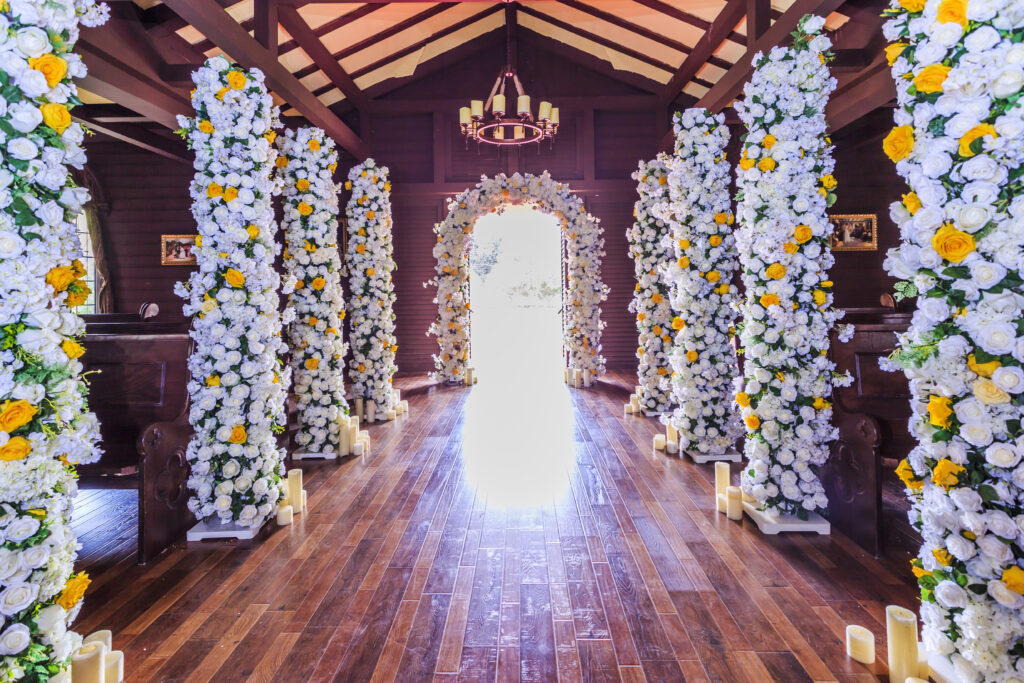 If your venue has areas you'd prefer to keep out of sight, draping can help. It can hide unattractive walls, exposed pipes, or other unsightly features, ensuring that your venue looks polished and flawless.
Types of Draping Materials
Selecting the right draping material is essential for achieving the desired effect. Here are some popular options:
Chiffon is a lightweight, sheer fabric that drapes beautifully. It creates a soft, romantic, and airy atmosphere, making it perfect for weddings.
Organza is a sheer, crisp fabric that adds a touch of sophistication to any space. Its shimmering quality catches the light, making it ideal for creating a dreamy, magical environment.
Tulle is a lightweight, net-like fabric often used in bridal veils and tutus. Its delicate, ethereal quality makes it perfect for creating a whimsical, fairy-tale-like atmosphere.
Draping Techniques and Ideas
There are several draping techniques you can use to transform your wedding venue. Let's explore some ideas:
Ceiling draping creates a stunning visual effect by drawing the eye upward. Swags or billows of fabric can be suspended from the ceiling to create a canopy or tent-like effect, adding warmth and intimacy to a large space. You can also use ceiling draping to create dramatic focal points, such as a chandelier made of draped fabric or a cascading waterfall effect.
Wall draping adds depth and texture to your venue while concealing any unattractive features. You can use full-length drapes to cover entire walls or create a series of panels for a more structured look. Consider incorporating sheer fabrics and uplighting to create a soft, romantic glow.
Draped backdrops serve as stunning focal points for your ceremony or reception. You can create a simple, elegant backdrop using a single type of fabric, or combine different materials and colours for a more elaborate design. Add a touch of sparkle with fairy lights, or incorporate greenery and flowers for a natural, organic look.
Table draping can elevate your reception tables from ordinary to extraordinary. Use luxurious fabrics like silk or satin for an elegant, upscale look, or opt for rustic materials like burlap or linen for a more relaxed, casual feel. Don't forget to drape your cake, gift, and escort card tables for a cohesive look.
Chair draping is an excellent way to add a touch of elegance to your seating. From simple sashes to elaborate, full-length drapes, there are countless options for dressing up your chairs. Experiment with different fabrics, colours, and tying techniques to create a unique look that complements your overall wedding theme.
Incorporating Lighting and Decorative Elements
Enhance your draping with lighting and decorative elements for a truly magical atmosphere. Uplighting can add depth and drama to wall draping, while fairy lights create a romantic, twinkling effect when woven through ceiling drapes. Don't forget to incorporate decorative elements like greenery, flowers, or crystal accents to further personalize your space.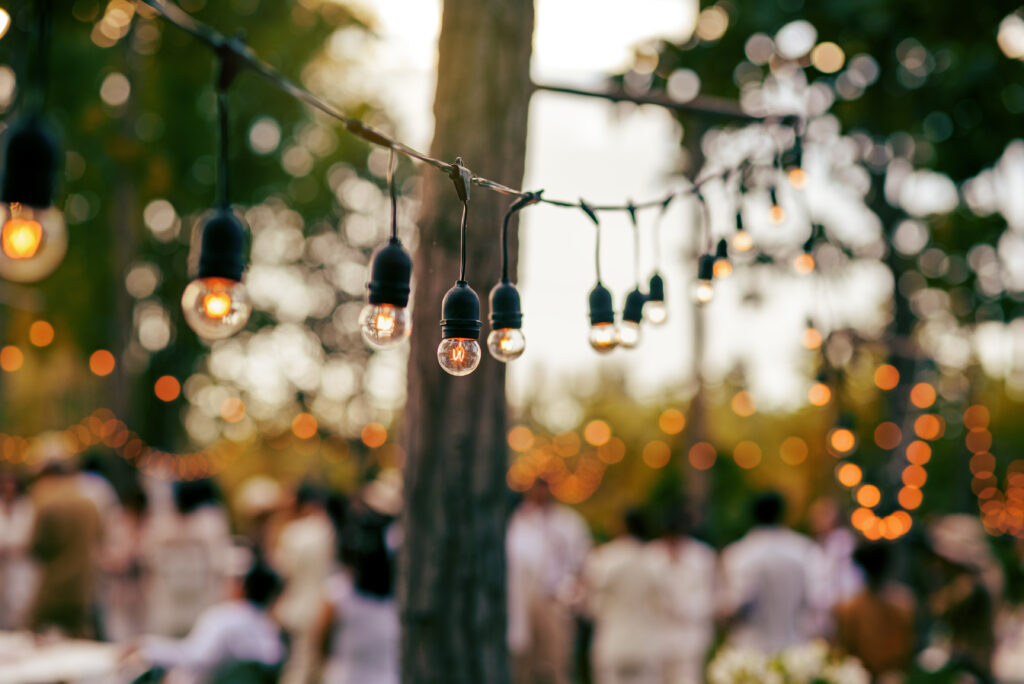 Transforming your wedding venue with draping is an excellent way to create a unique and enchanting atmosphere that reflects your personal style. By selecting the right materials, techniques, and decorative elements, you can design a breathtaking space that will leave a lasting impression on your guests.