Today, wedding planning is one of the most rewarding and prestigious careers you can choose. The craze among people to make their 'big day' memorable has always been in the limelight. No doubt, a wedding is the most joyful and unforgettable moment in everyone's life. In order to make their D-day as bright as the sun, people always hire a wedding event planner. If you're someone who aspires to be like Bittu and Shruti from Band Baja Barat, you must explore a career in Wedding Design & Decor course to open your wings to fly high.
In order to become a professional and expert event and wedding planner, enrolling yourself in a wedding planning institute like The Wedding School should be your go-to choice. Here is detailed information about the Wedding School Design & Decor course at TWS.
A detailed overview of wedding design & decor course
Why Should Aspiring Wedding Planners Opt For Decor Course?
A wedding design and decor course is the perfect career choice for all those who have an interest in event planning and aspire to become wedding planner. Even if you're someone who loves decorating your home on festivals or occasions, you're the perfect fit to boost your career in event management. When it comes to defining what exactly a wedding design & decor course is – this course is all about enhancing your creative skills and use of advanced technology to create creative modern designs for any party, event, occasion, or festival.
At Wedding School, our certified trainers and experts help you learn the basics of designing and go on to teach the advanced aspects of a wedding design course. Basically, you will learn from scratch, such as design ideas, the use of matching colours, proper management of items, time management, visualisation, important techniques for decoration, design principles, building creative ideas, etc.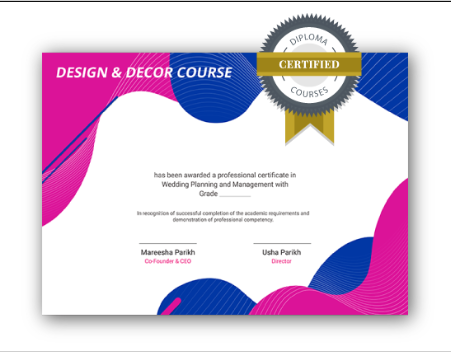 By learning the ropes of a wedding design & decor course, you will be able to establish yourself as a professional wedding designer. Are you interested in enrolling yourself in our wedding school design and decor course? Curious to know when the course will begin, the duration, the fee structure, etc? We're going to give a brief overview of our wedding design and decor course below.
The Wedding School Offers Both Live & Hybrid Classes
Let us now give you detailed information about both live & hybrid wedding decor classes.
The duration of live online wedding decor design classes is 4 months, which includes 25 sessions that will be conducted on Saturdays and Sundays.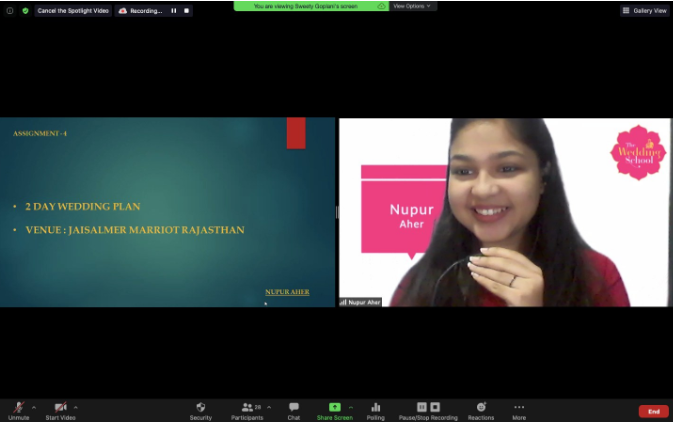 Hybrid Classes (Live + Offline)
The duration of hybrid classes for the wedding and decor course is 6 months, including 40 sessions over weekend. Moreover, the internship will be offline and the course will be online. Based on your preference, you can enrol.
In Hybrid classes, you get access to all the given listed courses:
Certified diploma course
Art of pitch presentation
Decor designing & styling
Production and fabrication
Nurturing expertise in execution
Access to the session recording
Professional software training (Photoshop, Excel, Vray, Sketchup, etc.)
Session by industry stalwarts
The course curriculum includes:
Introduction to the world of weddings
Introduction to the world of decor
Events of production
Layout and mood board
Fabrics and florals
Vendor and resource management
Pre and post-production planning
Designing with software
Art of presentation
Cost and budgeting
The pitch presentation
Introduction to the fabrication and market
The beginning of the design
Model it up
The wedding design & decor course is going to start on 16th July 2022. The course fee for this year's batch for LIVE Online course in design & decor stands at INR 50,000 & the Hybrid Course stands at INR 80,000.
The benefits you can avail by getting enrolled in our course:
Assured internships
100% job placement opportunities
Training from world-class faculty
So, what are you waiting for? Just enrol yourself now because The Wedding School is here to give your career wings with a thoughtfully designed Wedding Design & Decor Course. With our design and decor course, you can expect to have a bright future for yourself. Our professional training and the certified course will boost your career.