Nobody could have ever predicted the current state of weddings. Social distance at a wedding? Seems impossible if it was 2019, right? Planning a wedding in the midst of a pandemic has its own set of problems, as laws and regulations are often changed and vary by location; however, one thing is sure: weddings and activities will continue to 'look' and 'feel' differently for the foreseeable future. Couples now either have to postpone their weddings or have a 'socially distant wedding,' and it may seem like a huge fuss, something that you do not want to indulge in, but believe us- when we say it can be done very easily!
In this article, we'll show you how to maintain social distance at your wedding while still having the time of your life!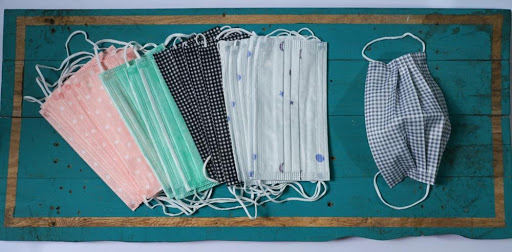 One of the best ways to indicate a message of social distancing is to place a face mask either in the wedding invitation or on the tables themselves at the venue. Many guests would be carrying their masks, but why not make them available? This way, every person present at your wedding will have no excuses not to wear a mask. It is indeed a great move for a social distancing event idea.
You may be unable to proceed with your wedding plans if you know that international visitors, grandparents, or other vulnerable guests would be unable to attend. On the other hand, those visitors would feel terrible if they believe they are keeping you from marrying. Consider ways you can include them.
Live streaming your wedding is a great option. Make the live stream available to all the guests who could not be a part of your wedding. If you want to go the extra mile to make the guests who could not make it feel special, you could send them wedding favors. Now, these aren't regular wedding favors. You can send them food that would be served at your wedding to make them feel like they are at the wedding
Not everyone feels the same about the pandemic—some would want to be friendly and embrace, while others will appreciate some space around them—as a result, it's a good idea to have a variety of coloured bands on hand that they can wear to show their comfort levels. For example, red or pink could indicate that please "Keep Your Distance"; blue or yellow could indicate "I'm fine with being around people," and white could indicate "I'm fine with making physical contact." You could do this with everything, like masks, badges, bands, and ribbons, and you could even make these yourself. In this way, all the wedding guests could enjoy the wedding to the fullest while being socially distant!
Keep Everything Clean And Sanitized
Ensure that surfaces are decontaminated before the wedding and that sanitizing stations are available during the wedding festivities. To spruce up places that need to be re-sterilized, have hand sanitizer, disinfecting wipes, and cleaner-filled spray bottles on hand.
Check with your venue's rules and regulations, and be considerate of vendors' concerns. Hand sanitizer containers should be placed where they are easily accessible, such as on reception tables and at the counter. Couples can also make personalized labels for mini hand sanitizer bottles, which guests can use at the wedding and afterward. Sanitizing stations are a great option to make sure that the guests are regularly sanitizing.
Communicate With The Vendors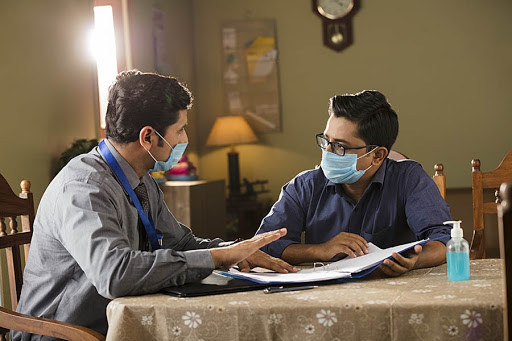 Since you are having a socially distant wedding, there would be many changes in your plans. Contact your vendors if the pandemic has forced you to change your plans. You must inform the caterer that you are reducing your guest list. Instead of making a plethora of wedding reception centrepieces, the florist should add more flowers to your background. Allow vendors to weigh in on some of the improvements you want to make, as they may have innovative ideas to redistribute your budget for the social distancing event ideas.
Talk to your vendors to let them know you're not just going ahead with your wedding despite the risks; you want to avoid the risks as much as possible. Sharing your guidelines allows them to relax and enjoy their time with you on your special day. You may also want to subtly mention any immunocompromised visitors or who are unnecessarily fearful so that vendors can take extra precautions.
Talk To Your Wedding Guests
Times are tough, and you are going to make considerable changes to your wedding. You not only have to prepare yourself for this but also your wedding guests. Remember, communication is the key. There is some planning — both physical and emotional — that goes into getting ready for those who are attending in person. It's possible that guests would need to buy face masks or carry an extra bottle of hand sanitizer in their pockets or bags.
They must also emotionally prepare for maintaining social distancing, like restraining themselves from hugging people they haven't seen in years. Handshakes can be avoided in favour of elbow bumping.
Just make sure the guests aren't surprised by something they need to do beforehand. Furthermore, being positive will help ease any concerns that certain people may have about attending an event where they may be introduced to others. Taking steps is a lovely way to demonstrate that you care for your friends and family.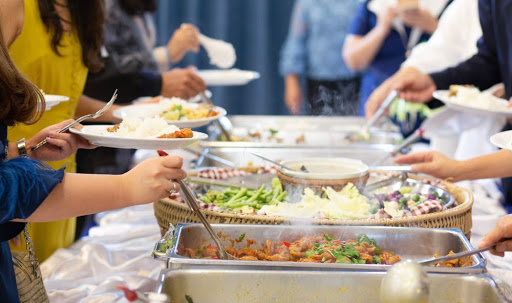 Buffets and family-style setups are difficult to track, and the more people who come into contact with the food counter, the riskier it becomes. Instead, you can choose plated meals prepared by caterers who follow safety precautions such as wearing gloves and masks.
The same can be done for beverages, appetizers, and dessert stations. Having their food and drinks delivered to their table would make your guests feel more special. Food counters usually tend to get crowded, but if you serve your guests on the table itself, there won't be much of a crowd and comparatively less risk!
Weddings are one of the most important days of the couples' lives and all the couples want their close ones to witness this day. So make that happen with plenty of precautions and prevention measures and your wedding can be risk-free and fun. The above-mentioned ideas will reassure all the relatives that it is safe to attend and you can have the dream wedding you want.