Indian weddings are all about traditions and heritage. No matter how "modern" one might be, tradition remains the essence of every Indian wedding. Having said that, there is no denying that there are many international trends that have had a big influence on Indian weddings. Westernization has hugely affected the way Indian weddings are planned and carried out. The young couples love tradition but with a dash of modernity! More and more couples want a global kind of wedding, that becomes an event to remember not just for them, but for everyone who attends it.
Thanks to the influence of social media, the youth is hugely exposed to the lives of celebrities. The destination weddings of Virushka and the very recent Deepveer, have given wedding goals to many. The marriage ceremony has become an extravagant off-shore holiday. Young brides wish to have a fairytale wedding and that has brought a huge rise in the demand for wedding planners, elegant caterers, trousseau designers, stylists, banquet organizers, etc. We have listed the biggest International trends that have taken the Indian wedding industry by a storm.
Exotic Wedding Destinations:
The travelling enthusiast young Indian would love to make their day all the more special, and if budget is an issue, an international destination wedding can be easily replaced with exotic Indian wedding destinations like Goa, Kerala and Rajasthan. The serene and classy environment adds wanderlust for a fairy tale set-up. Just like most international weddings, Indian weddings are no longer considered to be a herculean task (thanks to all the help from wedding planners), but rather a time when friends and family get together to have lots of fun.
2. The Rise of Bridesmaids and Groomsmen:
Talking about the presence of friends and family at the wedding, the international trend of having bridesmaids and groomsmen has made an entry in our wedding scenario as well.
3.  Traditional Wedding Colours Are Out:
There has also been a major shift in the bride's outfit. The Indian bride is now seen in colours apart from the traditional red and shades of green. Yellow and even white are now gaining popularity. Different styles of hair-dos and makeup have also made way. The wedding guests are also seen following different colour schemes for different wedding ceremonies, from an all yellow in the "Haldi Function", to an all-white tempo for the "Sangeet". The sangeet pictures and videos of Bollywood actress Sonam Kapoor awed everyone, with every guest clad in shades of white. More and more people are opting for pastel and sorbet shades, especially for summer weddings.
4.  The Veil Trend:
Indian brides are taking inspiration from their western counterparts and incorporating beautiful veils into their wedding trousseau. This trend was particularly well received by Bollywood celebs like Deepika Padukone and Priyanka Chopra who included the very chic Catholic veil into their wedding trousseau.
5. Subtle Bridal Makeup:
Bridal makeup is one of the most basic components that bring a wedding look together. There is nothing better than a simple and fresh make-up look that will make you look radiant. While Indian bridal makeup has always been known for its extravagance, the western trend of a subtler and simpler look has ebbed its way into our weddings. For instance, Priyanka Chopra Jonas settled on the 'less is more' approach for her recent wedding ceremony. From a summer wedding on a seashore to a beautiful ceremony in a temple or another private location, this is one of the most recent International wedding trends that has made its way into Indian weddings and will remain popular.
6. Curated Guest List:
Unlike before, when long-forgotten friends and relatives were also invited to weddings, just like international weddings, the guest-list of an Indian wedding is now planned more articulately. This also makes it easier to make each guest feel more special and truly a part of the big day. Parting gifts with their names on, specific photo-shoots, allotted tables at ceremonies etc. are ways to make everyone feel extra special.
7. Bridal Entrance:
Before, the grand entrance was reserved only for men in Indian weddings. However, Indian brides are taking inspiration from their Western counterparts and are beginning to take the lead with regards to their bridal entries on their big day.  Full of magnificence and attitude, brides currently enter on an assortment of vehicles, for example, bikes and Palanquins with the most well known by far an entrance to their fave 'tune' and their own rendition of their Naomi Campbell catwalk swagger, Brides are done playing the shy bride and are quite glad to flaunt their style and their personality.
8. Blending Of Cultures:
With a rise in inter-caste and even inter-country marriages, many couples are experimenting with a fusion of eastern and western culture. It is not just an acknowledgement to their heritage, but it is their way of blending the east and west styles. Couples from various cultural backgrounds decide to celebrate both their cultures in independent ceremonies or combine them with various ceremonies from each. Deepika and Ranveer, and Priyanka and Nick both had two wedding functions to include and offer respect to and celebrate their cultural differences. This has also given rise to another important aspect of the spectacle of the wedding which is an exemplified and lavish layout of food. From Chinese to Lebanese, Italian to Japanese, Mexican to Thai, along with the exotic Indian cuisines are all reaching the modest palate of the guests.
9. Tossing Of The Bouquet: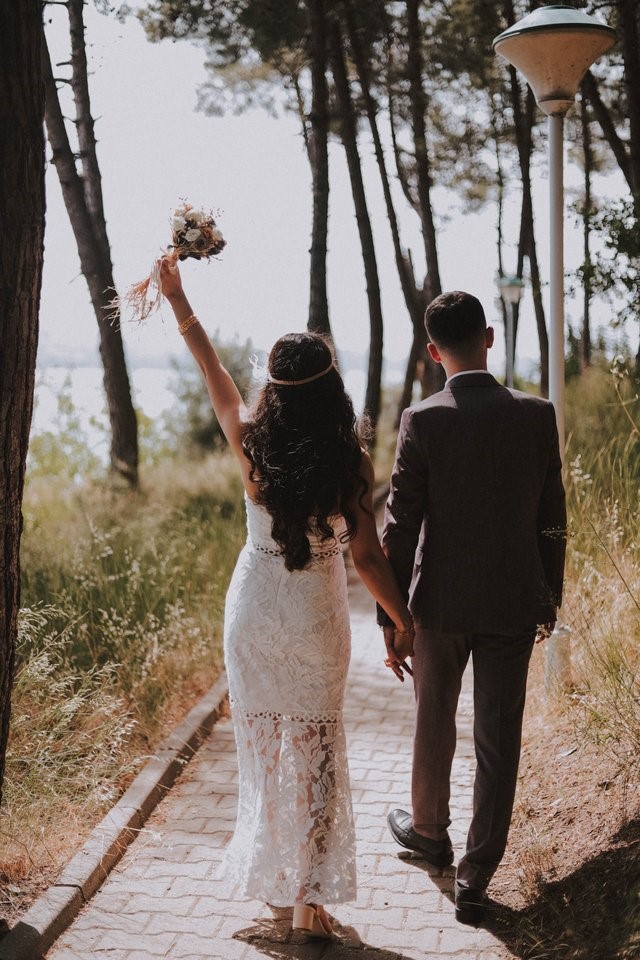 The tossing of the bouquet is a tradition that most single ladies at a wedding anticipate. This fun and popular tradition of the Western culture has been adopted by young Indian brides too. The bride (frequently blindfolded) throws her bouquet to the single woman and it is said that the young lady that gets the bouquet will get hitched next. An Indian bride tossing her colourful bouquet is such a great photo opportunity as well!
10. The Gift Registry:
How frequently have we gotten gifts we truly didn't need or we already have? The gift registry (exceptionally well-known custom in weddings internationally), is an incredible method to abstain from being gifted the same thing multiple times. The couple chooses their wish list of items from a store, shares it with their guests and in this manner guarantees, they get precisely what they need!
This Indo-western fusion of the wedding trends is nothing less than an opulent celebration and has further added more glitter and sophistication to the Indian wedding industry. There is no doubt that international trends have started showing up in Indian weddings, and they are here to stay!