As all of us navigate the impact of COVID-19 on our lives, we at The Wedding School don't wish for learning to stop due to the pandemic. Now is the best time to take hold of your future and pave the way for your career. With 80% of weddings being shifted to the latter half of 2020, this is the best time to invest in our Live Online wedding planning course and build your dream career.
1.

Boost your employability
This is the best time to boost your career by upskilling and learning the ins and outs of the wedding industry in India. Learn under the guidance of industry experts with our interactive and detailed curriculum. So when the wedding season starts, you'll be ready to begin an illustrious career.
Image credit : Imagebazaar
2.

Begin your career at the peak of the wedding season
With most of the weddings shifting to the second half of the year, it aligns perfectly with the wedding muhurats of the year. By the time you're done with our live online and offline courses, you'll be ready to kickstart your career in wedding planning.
Image credit : Imagebazaar
3.

Intern with reputed companies
Internships enable students to gain real insights into their choice of career and provide exciting opportunities to learn all about event management and wedding planning. With our assured internship opportunities, you can apply all your learning, practically with reputed wedding planning companies.
4.

Be a part of on-ground wedding planning experience post Covid-19
Experience the special duties of making someone's most important day unforgettable with real-life experience post-COVID-19. Our online-offline classes are adapted to the new ways of covering weddings in the post coronavirus world. Be it an online wedding or a regular one, you will know how to navigate it with our course.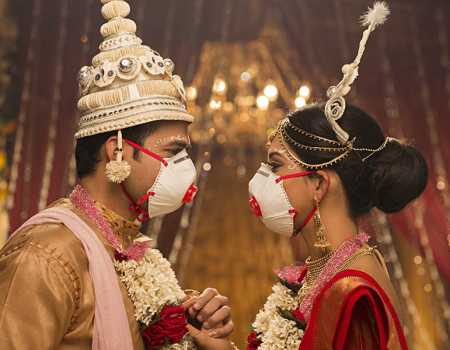 Image credit : Image Bazaar
5.

Indian Wedding Industry is growing at 25-30% annually
The Indian wedding industry is valued at 50 Billion dollars, ranking second after the American wedding industry. You can easily headstart your career as soon as the wedding season begins and become a successful Indian wedding planner because not even this pandemic can stop the weddings.
Adopt this modern mode of learning with our detailed courses to ensure that you become 100% ready for a career as a professional wedding planner. Don't miss out on this chance to upskill during this pandemic. Ace wedding event management with The Wedding School today!