While eco-friendly weddings have been in vogue and trending for quite a while, it is only now that it is no longer such a challenge to plan such a wedding in India. There are enough options for hosting an eco-conscious wedding, more than ever before. With the warmer melting summers and severely cold winters, we are all witnessing the consequences of climate change with the harsh seasonal weather. A healthy lifestyle is the need of the hour, and the same is now being focused on Indian wedding plans as millennial and Gen Z couples tie the knot. If you have that specific place in the corner of your heart for nature, you might as well dedicate your BIG day for the environmental cause. And just to make it clear, as you might think that this would make your wedding day dull or unattractive, it might not be true.

Most people these days are pretty eco-aware, and also conscious of the need to treat the planet well, even when you're planning a wedding. There are many ways you can incorporate a green-friendly ethos in your celebration, like recycling to repurposing. To minimize wedding waste or reduce the carbon footprint of your celebration, there are several different eco-friendly wedding choices you can opt for.
Facets for an eco-friendly wedding
When you aggregate several small decisions over time, they add up to better consequences. In your wedding choices, being mindful along the way produces a ripple effect. No option is too little, and when we're trying to do our part for the environment, every bit counts. Because earth-friendly choices become readily available, adopting this theme and making it part of the identity of your wedding is a brilliant idea. We have some excellent ideas about how to have a green and sustainable wedding as well as fun. Here are your eco-friendly wedding ideas that would make your wedding stand out from others.
Eco-friendly wedding invitations like e-invites or even updates to social media and online event calendars are alternate solutions, all of which continue to grow in complexity and appearance. Younger guests may not have a problem navigating the idea, but you may find that older guests prefer a written invitation. But, instead of that, what you should do is call them or visit them if they live in the area.

That may not always be possible, so we have some great ideas for your invitation to your wedding. Set the course for your environmentally friendly wedding with a sustainably made paper by designing your wedding invitation. By not selecting virgin paper, you can make a huge difference, so use 100 percent recycled paper instead. Seed or the plantable paper is another fabulous choice, which implies there are seeds blended into the paper pulp. Therefore, it can be soaked in water after the invitation is read, and the resultant pulp can be planted in a pot or garden. Long after it is done, the plant that will flourish and bloom will be a happy reminder of your wedding.
Your big green wedding can be organized in the arms of Mother Nature in the outdoor arena. There are also impressive green credentials in several more formal venues, so it pays to look around. Even holding your ceremony and reception at the same location is one of the best ways to reduce your footprint, which will lower the number of times of travelling your guests will be doing. Or you can consider organising a shuttle service to minimize the number of cars making the journey to attend your wedding celebration if your ceremony and reception are in two separate locations or there is a decent ride involved for most of your guests. If you are enthusiastic about the setting, choose a wedding venue that eliminates the need for lights and decoration. Through selecting an outdoor garden location with a naturally beautiful landscape, the best way to achieve this is to choose in advance. All feasible choices include a farmhouse, hotel lawns, or even a vineyard. Having a wedding in the day would also minimize energy usage, as the sun will provide all the light you need as well as guarantee great wedding pictures as well.
In preparation, explore your plans to decrease your carbon footprint with the wedding planner. It will provide them with a guide to recommend sufficient elements of decoration. An eco-friendly wedding doesn't mean drab, so remember to do some homework and offer some suggestions about your preferences to the decorators. We can all consider that flowers are an essential part of the wedding decor, so make sure the seasonal flowers are bought from your nearby market. You can go one step further and add faux flowers or fake flowers as an accessory but make sure they are made out of paper or recyclable materials thus reducing your carbon footprint. As they add to the romance but still look absolutely stunning, candles are a practical and pretty choice. Procure some of nature's style aspects and integrate them into your organization's plans. For example, for your guests to locate their seat at the reception, use real leaves as place cards. There are several other lovely decorations, plus a wide variety of tableware available in recycled cardboard or tissue paper.

For a dreamlike effect, brightly coloured fabrics could be used as drapes. Elements such as brass lanterns, earthen pots, and temple bells, and so on will make the decor look fantastic while eventually being reusable can be enlisted in your eco-friendly wedding decor. Moreover, if you select your wedding venue wisely, it will have its own atmosphere without the need for too many extra decorative elements. Another way to do well with your wedding day after your event is to resell or donate wedding objects. Offer anyone else the chance to reuse them for their own case, instead of trashing things or throwing them away!
● Food cateringinvitations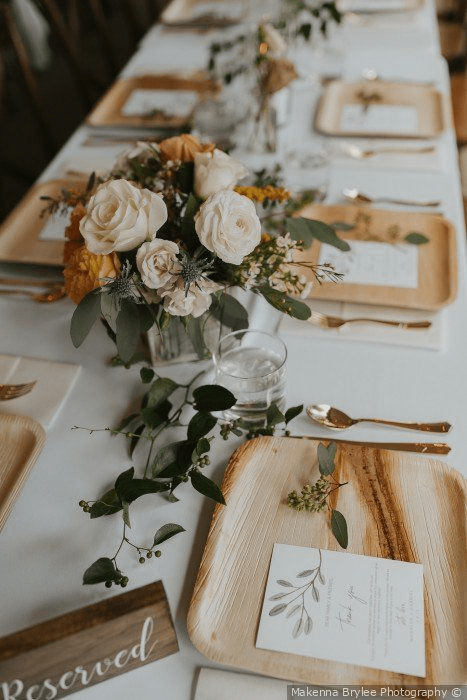 An intricate menu is the foundation of a good wedding, so you can make sure it is in line with the theme with a few subtle touches. Ingredients collected locally and processed sustainably may be the basis for preparing the wedding menu. It could be entirely organic for the salad section, which would satisfy even the pickiest person. People may not consider this, but there are really some beautiful ways you can also think green with your food.

The far more environmentally friendly wedding choice is to select a local catering company that locally sources its goods and other sources and then customize your menu to the seasonally available foods. Indeed, the reception cutlery should exclude anything and everything plastic and Styrofoam. Plant-based biodegradable crockery is an excellent alternative, and reusable (such as glass) cutlery is also a great option.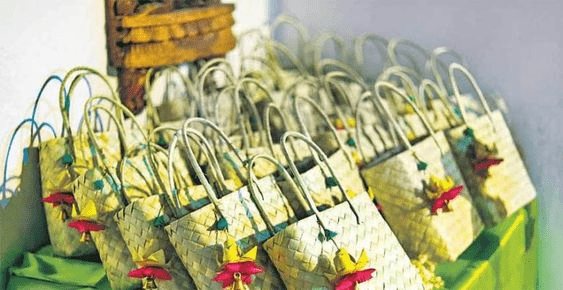 Friends and family are likely to consider a gift a must, so there are a variety of things you might do. First of all, you might ask them to give you presents that are either wrapped or newspaper protected. Yeah, maybe it doesn't look so fancy, but Mother Nature is going to thank you for the gesture. And as for your return gifts, you might also send your guests gift baskets of organic fruit / dry fruits or khadi silk pouches with unique flavours and aromatic items for an environmentally friendly wedding. An eco-friendly, beautifully crafted kitchen garden gift collection is also an excellent choice for a return gift. That's also sure to build a sense of curiosity and interest, complete with a collection of small pots, vegetable or floral plant seeds, and an instruction manual. Any plant that grows from that same collection will leave a massive impression of your marriage for days to come.
● Select recyclable decor elements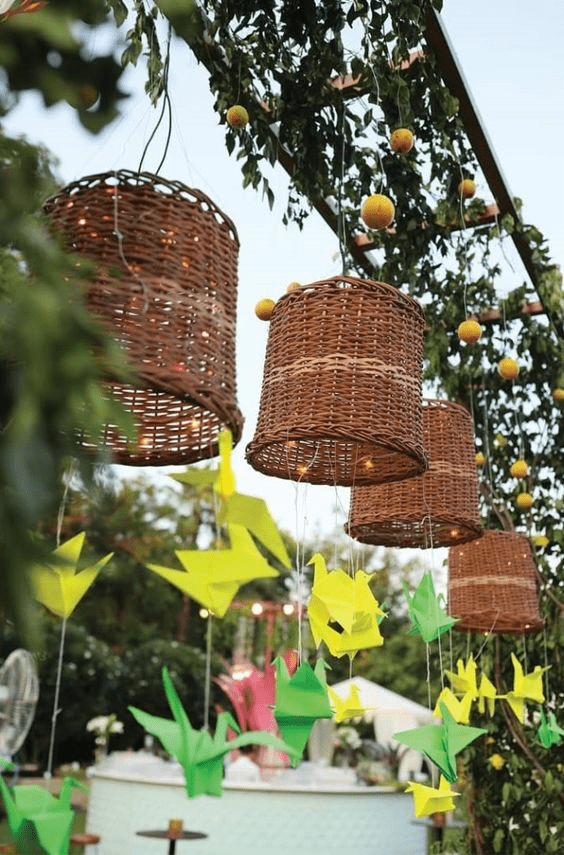 Recycling and reusability are the keys to eco-friendliness. You can select an environment-friendly décor, which brings a natural feel to your wedding by using potted plants as the key parts for your table. The signs can also be rubbed with hand-written chalkboards and decorated later.

There are several approaches you can take a sensible approach to your celebration, whether it's something you want to concentrate on for a little, or you see it as the guiding factor behind wedding planning. A wedding is spectacular and extravagant as it says volumes about the families involved, their role in society, and marks the newly married couple with a positive collective identity. Through wedding arrangements, an attitude of responsible luxury would ensure the love and esteem of your friends and family, while also providing a healthier world to future generations.