For a traditional Indian wedding, mandap is where the marriage ceremony takes place. After going around the sacred fire, exchanging garlands, and even marriage vows (in a modern context) the union or wedding is sanctified. It all happens in the mandap in the presence of your friends and family who share the joy, cast flowers on the couple, banter around and take pictures. This means that the mandap should receive equal importance as the reception, planning mehndi and sangeet, and pre-wedding shoots among several other ceremonies and venues. Do keep in mind that the mandap decoration should match with the overall décor and theme of the wedding. Given below are the 10 wedding mandap decoration ideas for your dream wedding and 'pheras'. 
Incorporate a white colour theme in your mandap decoration ideas. White mandaps whether using flowers or fine fabrics portray elegance and class. Add a dash of bright colour for day weddings and an evening wedding use a combination of luminance with different colours thrown in. For example, a beach wedding in the daytime may have a mandap made of white flowers with a trail of red roses going through it, or a mandap draped in white could have a crown of red flowers. For a night wedding, a mandap adorned with white flowers combined with classic chandeliers and green foliage will look ethereal. 
2. New Age Mandap Designs
New age wedding mandap decoration ideas include the coming together of the traditional Indian with modern ideas to create a beautiful piece of art. Erect a mandap surrounded by water. It can be an indoor one and even an outdoor lakeside one. Create a mandap made of violet drapes decorated with flowers in all shades of violet, blue and purple. The options are endless. 
3. Mandap with Foliage & Greenery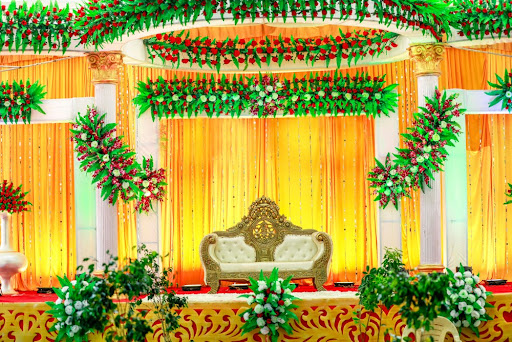 Constructing a mandap made of foliage and greenery with a generous portion of flowers thrown is quite popular in mandap decor ideas. This is usually suited for an outdoor wedding theme that incorporates the natural greenery of the surroundings with additional foliage and flowers. A combination of multi-coloured drapes and flowers combined with green leaves and shoots will make for a serene and pleasing surrounding. 
Mandap decoration ideas for weddings can include getting a rustic yet polished character to the mandap. Imagine a traditional mandap with red drapes hanging with 'kaleeras' and pooja bells. Or an open-air mandap with four arches made of red drapes and roses with floral chandeliers hanging just above the Vedi ( Holi Fire) designed in a rustic style. This combines a certain rustic charm with sophistication thrown in reminiscent of old country nobility. 
5. Mandaps without Canopies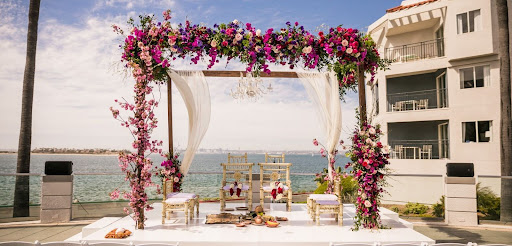 Mandaps without canopies or open-air mandaps are a rage right now for outdoor weddings. These can be used both for daytime weddings or during nighttime 'pheras'. For a daytime wedding, it gives the feeling that the sun is the witness to your nuptials and a nighttime ceremony will be a romantic one seemingly attended by the stars and the moon. Arches and the erected walls should be covered with flowers and mandap can be on a raised podium with chairs or beautiful plush rugs with bolster long pillows as sitting arrangement.
Flowers are considered auspicious and offered during prayers to the deities. These are also used during any auspicious ceremonies like weddings. Wedding mandap decoration can be done predominantly with flowers as per your taste. If you are inclined towards traditional, go for marigold-themed decoration, if you are romantic at heart say hello to a mandap decorated with red roses and if you have a bohemian spirit, insist on the flowers you love.
7. Simple and Elegant Mandap Designs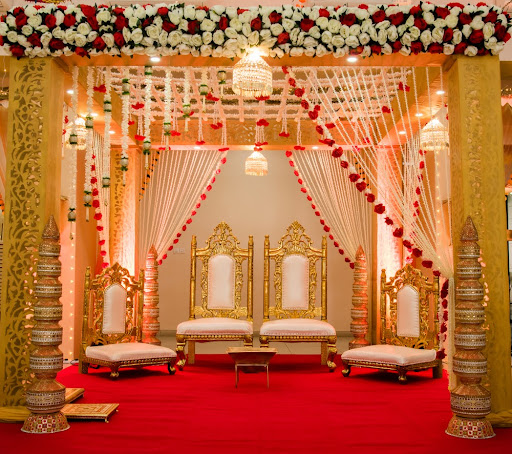 If you are that person who likes subtlety and hates flashy and blingy décor then go for a simplistic yet elegant mandap design. Use pastel shades of drapes and flowers for wedding mandap decoration with a few pink roses for some colour. You can also select an open-air mandap with a two-toned mandap in serene colours like yellow and white. It will suit your style and relax the senses along with looking elegant. 
8. Traditional Mandap Designs
Mandap decoration ideas with traditional themes are the most followed ones. India is a traditional country and for auspicious ceremonies, people like to follow the traditional path. It does not mean the mandap décor will be boring. Ask for traditional wooden arches decorated with pooja lamps, bells, and yellow and red flowers. For indoor nighttime 'pheras' along with traditional décor, add a fine net wooden canopy with arches decorated in red and orange roses and yellow marigolds.
Red is the colour associated with love and also the preferred choice of traditional wedding finery and ensemble. Most of the time Indian brides will be decked in red 'jodas' or sarees for their weddings. Mandap decoration ideas involving a red theme can be a major hit with the couple and enthusiastically embraced by the attendees. An outdoor mandap surrounded by nature with arches draped in red velvet with white and red floral arrangements will look beautiful. Seating arrangements could include wooden bedsteads with decorative patterns draped with plush carpets in a distinct colour like violet and purple to differentiate it from the red mandap.
10. Regional Themed Mandaps
Mandap decor ideas based on regional themes are a popular option whether they be destination weddings in Rajasthan or a traditional south Indian wedding. A regional themed Rajasthani wedding may include a nighttime outdoor phera ceremony with the traditional lighting of pooja lamps with bright coloured lanterns and modern lighting arrangements thrown in. It can be held in the premises of an erstwhile royal haweli or fort for an aristocratic feel with the attendants in traditional robes. A traditional south Indian wedding may include wooden arches with banana stems and traditional oil lamps adding to the surroundings. The open-air canopy could be decorated with pastel and yellow-coloured flowers with pooja bells hanging from above.  
So, these are some of the mandap décor ideas you can implement for a wedding. Just remember that the decoration and theme should be as per your taste and choice. A wedding is a personal commitment and a joyous moment; it should be what you want it to be.